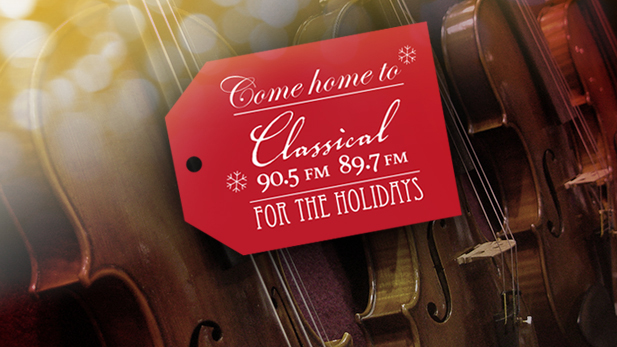 (PHOTO: AZPM)
Christmas Eve, Tuesday, December 24th
8 pm
A Holiday Card To Tucson
10 pm
A Choral Christmas with Stile Antico
The award-winning choir from London, pays a visit to St. Paul's Church on Harvard Square for a concert of radiant sacred music for the Christmas season by the most acclaimed composers of the renaissance.
11 pm
A Chanticleer Christmas
A celebration of the season as told through the glorious voices of Chanticleer, the 12-voice San Francisco-based men's choir.
Christmas Day, Wednesday, December 25
6 am Music of the Baroque Brass and Choral Holiday Concert The WFMT Radio Network and Music of the Baroque offers the annual presentation of their Brass and Choral Holiday Concert.
8 am Welcome Christmas! An hour of joyful holiday music featuring the Minneapolis-based chorus, VocalEssence, and hosted for the fifteenth year by American Public Media's John Birge.
9 am Tucson Boys Chorus Holiday Concert
11 am A Centennial Ceremony Of Carols: A Benjamin Britten Holiday Celebration A celebration of the 100th anniversary of the birth of the renowned British composer Benjamin Britten through his beloved choral music for the holidays.
12 noon A Journey Through the Nutcracker James David Jacobs goes behind the scenes for Boston Ballet's The Nutcracker, uncovering the secrets of Tchaikovsky's masterpiece with conductor Jonathan McPhee, cast members, and the audience at the Boston Opera House.
2 pm Arizona Repertory Singers Holiday Concert
4 pm A Christmas Celtic Sojourn Direct from the Cutler Majestic Theatre in Boston, a Celtic celebration of the season, with traditional singers and instrumentalists, and a story or two from host Brian O'Donovan.
5 pm St. Olaf Choir Holiday Concert, Tucson, 2013
New Year's Day, Wednesday, January 1st
9 am New Year's Day from Vienna The Vienna Philharmonic presents its annual salute to the waltz on New Year's Day 2014.