Listen:
"Imagine 1800 pounds against a 160 pounds, so that's about what it feels like," said Weston Wright, a 24-year-old getting ready for his first ride of the night as he rosined the rope he'd use to wrap around the chest of a bull named Nubs.
"… gives you a little extra grip. I ride Nubs for two draws, first and second turnout, I'll be on him twice tonight," he added. "My dad got me into it, he was a bull rider, grandfather was a bull rider, just kind of in the family."
La Fiesta de Los Vaqueros enters the final rounds of competition at the Tucson Rodeo grounds this weekend, with more than 650 cowboys and cowgirls from the U.S. and Canada trying their best as thousands of rodeo fans cheer them on.
With half a million dollars in prize money and bragging rights at stake, contestants compete in events that include barrel racing, bronc riding, steer wrestling, tie-down and team roping. But ranked among the favorites for fans is bull riding, an event where man battles beast and clock.
The goal is to stay on for 8 seconds.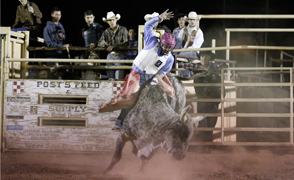 Clint Holcomb rides a bull during 'practice session' at Western Heritage Arena in Marana. (PHOTO: Double K Diamond Photography)
Up the road in Marana, young bull riders are keeping the sport alive by practicing their craft. Barring bad weather, they show up full of adrenaline on Friday nights to test their will and their skill. It can be a rough ride, but they all have their reasons for coming back.
Under the lights, you can see dust in the air from Interstate 10. The dirt parking lot is full of pick-up trucks, and cowboys stand near the chutes sharing stories about their last ride. There are young and old in the grand stand, mostly friends and family there to support the riders.
Over the past four or five years, young bull riders have gathered here at Western Heritage Arena to practice.
"If you get bucked off and you know you had him, just take what you did right there and move it on to your next bull and keep on trying and trying," said 11 year-old Sawyer Sibley.
Sawyer rode a steer named Hot Chocolate, and he said he does get scared, but turns that feeling to his favor.
"Use that fear against him, use that fear for power, 'cause if that bull is making you scared, use that fear against him," he said.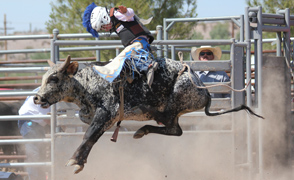 11 year-old Sawyer Sibley airborne during a daytime ride on a brindle steer. (PHOTO: Double K Diamond Photography)
John Schmid is the master of ceremonies and ring announcer. For fifteen years he was a rodeo bull rider and also rode bareback. He was quick to deflect credit to others who help make these practice sessions happen.
"You know, I don't rodeo anymore and I help mama with the cattle and as you can see everybody else out here does all the work," Schmid said.
The "mama" he referred to is Alia Jones, owner of Lightning J Bucking Bulls and provider of all the rodeo stock at the arena on Friday nights. With names like Cow Town, 21 Guns and Desert Storm, the bulls range in size and rank. From peewee bulls on up to jackpot bulls; it's $20 per ride, and $50 will put a person's name in the jackpot.

A rider can win as much as $500 or more, from collected entry fees if they're able to stay on for 8 seconds, and both rider and bull are judged to be the best that night.
Dan Post is president of the Town of Marana Western Heritage Committee, whose stated mission is to promote a Western way of life and allowing opportunities to people who participate in equestrian activities.

"If it wasn't for Dan Post, we wouldn't be bucking bulls out here," Schmid said.
The riders come from places like Queen Creek, Sonoita, Wilcox and Benson to learn from each other and practice on these bulls. Clint Holcomb, 24, is one local rider who has won a couple jackpots in this arena, and is proving himself on the rodeo circuit.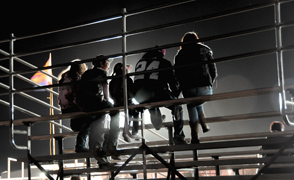 Rodeo fans in the top row at Western Heritage Arena on a Friday night. (PHOTO: Mitchell Riley)
"Yeah, I rode Grand Canyon Pro Rodeo Association last year, I won the bull riding championship in that and then this year I'm doing GCPRA again and also doing PRCA," Holcomb said.
Holcomb works for the Pima County Fairgrounds during the week and rodeos on weekends.
"Hopefully at some point, it will just be rodeo," he said. "You just got to keep going at it, keep practicing and not quit when you get hurt."
And like most rodeo cowboys, he's been hurt a time or two, but he keeps coming back, trying to get better.
"I've broke my neck, I broke my arm, detached ligaments in my ankle, in my wrist, tore my MCL a couple of times...you're either going to love it or hate it and if you love it, you just want to keep doing it," Holcomb said. "It's one of those things that even if it hurts you're going to want to keep doing it."