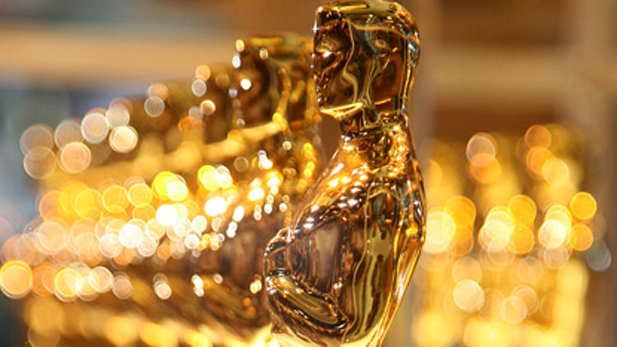 On Sunday, the Academy of Motion Picture Arts & Sciences will present its 86th Annual Academy Awards show, an event that is both loved and hated by film fans.
Some find its glamorous pageantry and earnest celebration of cinema history to be must-see-TV. Others might say those trappings only mask the Awards' popularity-contest roots, and its subservience to fads, gimmicks, and Hollywood social politics. Film writer Chris Dashiell offers his own take on what the Academy Awards have come to mean, and why Oscar often seems to have a raging split-personality…
Listen:
This time of year I am often asked about what film or actor will win an Oscar. Then I'm forced to admit out loud that I'm not much of a fan of the Academy Awards. Still, a lot of people pay attention to the Oscars. The American film industry has skillfully built and maintained an aura of prestige around its awards that no other award or prize in entertainment has been able to match.

The studios created the Academy Awards in 1927, with the stated goal of honoring excellence in film, and the unstated goal of promoting themselves by highlighting the most popular movies of the previous year.
The split between excellence and popularity was made explicit in the fact that there were originally two best picture awards, "Best Production" and "Best Artistic Quality of Production." The latter was won by Sunrise, a romantic masterpiece by F.W. Murnau that is still considered one of the greatest films of all time, whereas "Best Production," was won by Wings, a good World War I fighter pilot drama by William Wellman that is mostly remembered now for its Oscar win. That was the first and last time the award was split. From then on, the conflict was contained within the Best Picture category, and of course popularity has almost always won out.
How they came to be called Oscars is a matter of dispute. The most repeated story is that Bette Davis said the statuette looked like her ex-husband, Oscar Nelson. Another story is that Margaret Herrick, an Academy executive said, "That looks just like my Uncle Oscar!"
In any case, the awards quickly became a way not only for studios to gain prestige and business, but for film personnel to be honored by their colleagues, which in turn would boost their careers. This has always been especially true of the actors. An Oscar usually meant that an actor would get a higher salary, big publicity, and a lot more work.
The exceptions have been what you might call "fluke" winners—relatively obscure performers who won the big prize for a particular film. In 1984, for instance, F. Murray Abraham won best actor for Amadeus. He hasn't lacked for work, but he hasn't had many lead roles either. And in spite of her best actress win for One Flew Over the Cuckoo's Nest in '75, Louise Fletcher never really became a big star.
With the advent of television, the award show's popularity took off, and the familiar format evolved, with a comedian host, and stars presenting the awards. The public had a desire to see supposedly "off-duty" movie stars, wearing glamorous outfits and being honored for their work. The star system was very influential—it helped make a lot of money for the industry. Nowadays we don't have movie stars in the same sense—they've been brought down to earth by tabloid culture and turned into mere celebrities—but people still want to see them.

Here's my main problem with the Oscars. Hollywood could get away with claiming to represent the best in film from the 1920s through the 40s, because movies from other countries weren't screened in the states very often. After World War II, however, cinema has become a truly worldwide phenomenon. In response the Academy set up a little ghetto called the "Best Foreign Language Film" category.
The implication is that English-language films are inherently better. Now, if the Academy would admit that they're giving, in effect, an Anglo-American film award, that would be less hypocritical. But it's invested in its own publicity and hype, which is that the Oscars represent the best movies in the world. Consequently, although a few films made completely in languages other than English have been nominated for Best Picture, not a single one of them has ever won.
Once in awhile, but very rarely, an actor in a foreign film has won. Now, if you consider the incredible richness of the cinematic traditions in other countries such as France, Italy, Russia, and Japan, you've got to know that this is just a joke. Which I wouldn't mind so much, except that it perpetuates an attitude of ignorance and indifference by the public, a misplaced feeling of cultural superiority, and worst of all, a lack of distribution for good foreign films.
In addition to this, there's also the fact that sometimes very good films, in any language, fail to make money. The chances of such films being nominated are slim to none. One notable example is Blade Runner, the science fiction film from 1982. It initially lost money and got no love at all from Oscar, but is now considered a classic.

Taking a look back at what films and actors have won Oscars, the Academy has shown a poor record when it comes to excellence. Oscar watchers can cite numerous instances when the inferior nominated film would win. Famous examples include In the Heat of the Night winning over Bonnie & Clyde and The Graduate in '67, both extremely influential films, unlike the winner.
Also, Rocky winning in '76 instead of Taxi Driver, and Forrest Gump beating Pulp Fiction in '94 — the list goes on and on.
There are exceptions, but the number of times popularity, box office success, or just a basic conservative outlook has won over quality is rather astounding. In the case of actors, a lot of times the Academy will vote a certain way because an actor is thought to be overdue for an award, or because he or she was overlooked the previous year.
For instance, Al Pacino won for Scent of a Woman in '92. Robert Downey Jr. and Denzel Washington were both better that year, but hey, it's Pacino and he had lost too many times before. Or, so it seemed to most of the Academy voters.

So that's my two cents. I'll probably still be watching on Sunday—it's an American tradition, after all. Who will win Best Picture? I'm predicting that the Academy will resist its conservative instincts and honor 12 Years a Slave. I'm also predicting Cate Blanchett and Matthew McConaughey to win Best Actress and Actor.

See? I can play the game. For Arizona Spotlight, this is Chris Dashiell.

Who is Chris Dashiell?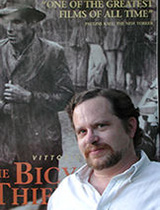 Film reviewer Chris Dashiell
Chris Dashiell has been writing about movies for seventeen years, serving as the editor of the online film lovers' guide Cinescene for ten of them. He currently reviews films for Flicks, a weekly program on Tucson's community radio station KXCI, and he confesses to shamelessly idolizing Carl Dreyer, Jean Renoir, and Luchino Visconti.