(VIDEO: AZPM)
This year, the University of Arizona Confluencenter for Creative Inquiry will be participating in the annual Tucson Festival of Books for the first time. Despite their newcomer status, the Confluencenter has planned an ambitious program for the festival.
The two-day, multilingual event will contain panels under the "Voices Across Borders" theme. Panels will be either literary, political or memorial including authors, poets, war analysts and a tribute to the late Miguel Méndez, author and UA professor.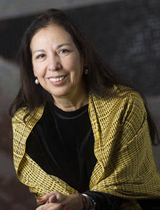 Norma Cantù
"We believe that these convergence, these confluence of voices, will really enlighten and educate our local audience about what it is to live across borders," said Javier Duran, Confluencenter director. "What it is to live in a society in which we talk about borders and yet sometimes the voices are not heard."
Heather Gray, a former employee of Arizona Public Media, is now the community engagement coordinator for the Confluencenter, and she has been working with the Festival of Books committee, the Mexican consulate and Tucson Hispanic Chamber of Commerce to organize the days' events.
"We're just concentrating our outreach efforts on getting people to come," Gray said.
Panels will be held at the UA Stevie Eller Dance Theater on Saturday, March 15 and Sunday, March 16. More information on panels and scheduling can be found on the Confluencenter website.
In addition to the television interview, Arizona Spotlight host Mark McLemore talked with Confluencenter executive director Javier Duran about the center's goals and priorities for Voices Across Borders.
Listen to a radio interview with Javier Duran:
Guest artist Norma Cantù is recognized as one of the most important voices in contemporary Chicana literature. Cantù will add her experience as an author, folklorist, social critic and educator to the Confluencenter's Voices Across Borders panel at the 6th annual Tucson Festival of Books. She spoke with Arizona Spotlight host Mark McLemore about her enthusiasm for engaging in a public dialogue about border life and art.
Listen to a radio interview with Norma Cantù: