(VIDEO: AZPM)
In Gov. Jan Brewer's budget proposal released in January, she asked for $33 million to fund public school district sponsored charter schools.
On Friday, she signed the state Legislature's final draft, which has about 75 percent of what Brewer originally requested for charters - about $24.5 million - painting an unstable future for many of these schools, according to school officials.
For more than a decade, state law has allowed school districts to convert some of their schools to charters. But recently, there has been an increasing sentiment that districts should not sponsor charter schools.
Senate President Andy Biggs sponsored legislation to stop it, arguing public school districts are draining general funds by converting their schools into charters.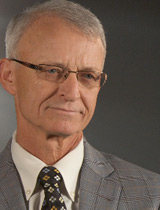 Calvin Baker, Vail School District superintendent. (PHOTO: AZPM Staff)
"It is important to understand that the law regarding district sponsored charter schools has not changed since it was first implement about 18 years ago, so the accusation that we all of the sudden found a loophole, and we are exploiting this loophole is totally bogus," said Calvin Baker, the Vail School District superintendent, during Friday's broadcast of Arizona Week. "If there was a loophole, there would have been a loophole 18 years ago."
He said the state Legislature has been incentivizing charter schools, but that they have responded to these incentives with a system that's had top results among charter students.
"We have...systems that we know bring absolutely top results, and we would like to replicate those...tune those...not decrease them because our funding has shrunk," he added.
Vail School District has seven charters total, and three of those were added this past year, he said.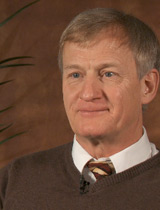 Doug Price, Tanque Verde Unified School District superintendent. (PHOTO: AZPM Staff)
"The cut in funding is only for the newer charter schools, so the four old ones we'll be able to maintain, at least under current legislation, we don't know what will be cut next year," Baker said.
He said it is discouraging for their good work to be "rewarded" with less money.
These cuts have also damaged plans of establishing and maintaining programs in the classrooms, because the charters may be be able to afford them one year, but if cuts are persistent, then they won't be able to to fund them in the future, argued Doug Price, Tanque Verde Unified School District superintendent.
Tanque Verde converted its largest elementary into a charter school about one year ago.
"The two things we really wanted to do is continue with our STEM (science, technology, engineering and math) program, we have (also) built a relationship with Raytheon, we have done some things with their elementary education program...and we wanted to expand that," Price said. "It is important to maintain that program."
Price said in order to move forward with the two, they need the Legislature to fund it.
Baker agreed with the feeling of instability.
"The money we are receiving is A. not as much as we thought it would be..and B. it is temporary, so we cannot use that money for reoccurring costs...we cannot use it to do a program that we expect to continue because it is scheduled to go away," he argued.
Price referred to what the Legislature is doing as a "political football."
"We are down to the last day, talking about $33 million in a $12 billion budget...it just doesn't seem right," he said. "The way that this picture is painted right now, I don't know what will happen, and that is part of (the) frustration, the way they are painting (us) out of the picture. If that is the case, we have to re-look at our school. We are trying to build a two-year budget, so if we boom up one year, and then have to boom down dramatically in another...That is going to be our issue, how we do that."