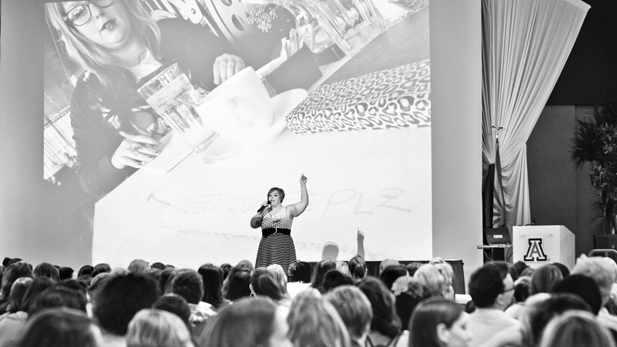 Jes Baker welcomes attendees to the inaugural Body Love Conference (PHOTO: Lisa Roden)
Listen:
The ballroom at the University of Arizona Student Union is often donned in red and blue, but recently it was draped in pink. More than 400 women – and a handful of men – gathered there for the first ever Body Love Conference. The theme of the day was "Change Your World, Not Your Body," and people of all shapes, sizes and gender identities attended.
Body Love's schedule was jam packed with presentations and workshops on recovering from eating disorders to learning to love post-birth bodies. There were yoga and burlesque classes, a keynote by the plus-size supermodel Tess Munster, and a lot of freebies: from condoms to cookies.

Amanda Callaway came to the conference from her home in Ridgecrest, Calif. Callaway, an accessories designer, said she's struggled with body image her entire life.
"I got teased and tormented," she said. "They called me hippie the hippo in junior high. And I wasn't big. Well I was big but I wasn't fat. I've taken badge like a badge of honor. I'm the first person to say I'm fat. And that doesn't bother me. But I don't want my daughter to have to go through everything I went through to have to get to where I am."
The Body Love Conference was organized by a rock star of the Internet. She's author of a blog called The Militant Baker and a Tucson native.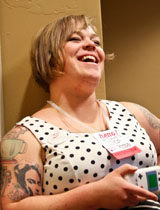 Jes Baker at the Body Love Conference (PHOTO: Lisa Roden)
Baker and I met up a few days after the conference on the patio at Time Market on a warm spring evening. She has a broad, beaming smile and finishes most sentences with a giggle. She wears tight dresses and short skirts.
Baker leapt into international fame last year after Abercrombie and Fitch CEO Mike Jeffries said his company didn't carry extra large sizes for women simply because its target customers are thin and beautiful.
"So Liora K, who's a local photographer and I, put together a mock photo shoot," Baker explained. "And we did advertisements that looked almost identical to theirs. You know, black and white, sexy male model. Except I was the female model. So at first glance it looked like an Abercrombie add, but then you noticed that there was this giant fat model in there as well. And people loved it and hated it."
Besides the Abercrombie campaign, which was known as Attractive and Fat, she's had a number of blog posts go viral, including a project called 25 Things Fat People Shouldn't Do. Number one on the list? Fat people shouldn't do a cannonball - and there's a photo of Baker, bikini clad, knees tucked in, plummeting into a swimming pool. Number 11? Fat people shouldn't eat in public. Baker sits in a booth at a restaurant, about to devour a delicious-looking plate of French toast. This is a woman who's accustomed to being provocative.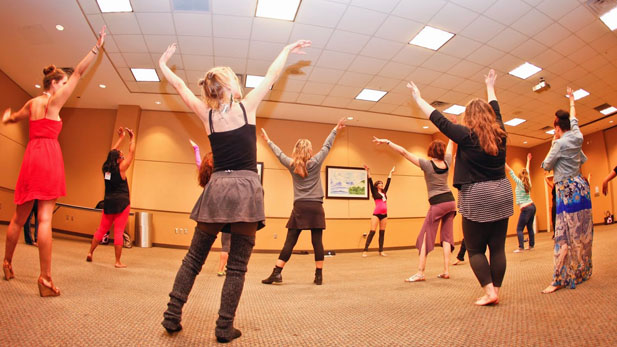 Learning burlesque at the Body Love Conference (PHOTO: Lisa Roden )
Baker is often criticized for making excuses for obesity, and undermining a major public health issue. But she said she's not an apologist and that's not what her movement is about.
"This issue is not about obesity. It's about mental health, it's about economic inequality. It's about so many big things…low self esteem and body image issues are causing people to stunt their lives. They don't achieve goals. They feel like they're unworthy and unlovable," she said. "So they ruin relationships. They can trigger developmental illnesses. There's eating disorders that kill you. And there're people that commit suicide over body image issues. They are so upset of the with they way they look. This perceived image that they would rather die than exist in the body that they have – which is inherently fine, it's the world that's skewed."
Baker spreads that message on her blog, during her regular talks at universities around the country and at the Body Love Conference.
So what exactly is body love?
"I think body love is accepting your physical appearance exactly the way it is," Baker explained. "Loving your body and treating it well because you love it and not because you want to change it. And a lot of people get really upset and say what if I want to lose weight and what if I want to exercise and yes it's your body do your thing. But also know that it's inherently perfect just the way it is."