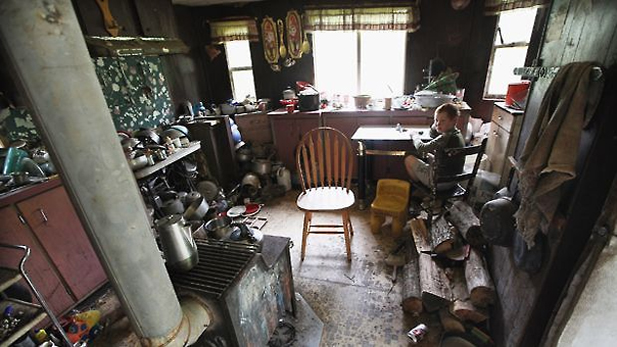 Johnny Noble, 9, sits in his uncle's trailer during a visit on April 21, 2012 in Owsley County, Kentucky. Photo by Mario Tama/Getty Images
Rising Poverty In America: The Causes And Consequences
Mose Noble's trailer has no electricity or running water but he receives governmental and neighborly assistance. The 2010 U.S. Census listed Owsley County as having the lowest median household income in the country outside of Puerto Rico, with 41.5 percent of residents living below the poverty line.
A half-century after President Johnson declared war on poverty, more than 46 million Americans are poor - and that number is rising. What's behind poverty in the U.S. and what can be done about it.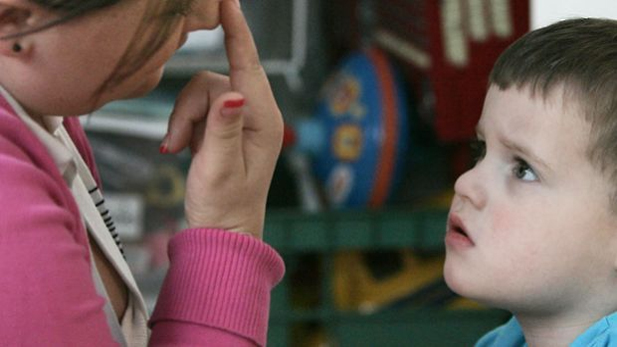 Instructional assistant Jessica Reeder touches her nose to get Jacob Day, 3, who is autistic, to focus his attention on her during therapy at the Day home in Antelope, Calif., on April 24, 2007.
Ron Suskind: "Life, Animated: A Story Of Sidekicks, Heroes, and Autism"
According to the Centers for Disease Control, one in 68 children has autism. There are nearly 60 different disorders associated with autism, which complicates the challenge for families, doctors, and therapists hoping to help. Writer Ron Suskind and his wife, Cornelia, found an usual way to connect with their autistic son, Owen: Disney movies, which fascinated him when he was young. Ron, Cornelia, and Owen's older brother, Walt, used Owen's attachment to Disney characters to forge a deep emotional connection with him – something they thought had been lost forever. We discuss the remarkable story of how storytelling rescued an autistic child, and also explore the ongoing efforts to reach other children locked in inner worlds.
Weekday mornings from 9-11 a.m. on NPR 89.1 FM/1550 AM