Arizona Public Media is pleased to announce that Lynn Pence, Curriculum Technology Integrator at Orange Grove Middle School in the Catalina Foothills School District, has been selected to serve as a 2014 PBS LearningMedia Digital Innovator.
PBS LearningMedia
is a national, awarding-winning digital media service that provides direct access to more than 35,000 classroom-ready, curriculum-targeted resources for PreK-12 educators.
The 2014 PBS LearningMedia Digital Innovators program rewards 100 tech-savvy K-12 educators from across the country who are serving as leaders in the education technology field and incorporating digital media in classrooms to promote student engagement and achievement. Recipients receive year-long professional development opportunities that include virtual trainings, access to premium and exclusive resources, and invitations to special events. In addition, the top sixteen applicants will receive an all-expense paid trip to Washington, D.C. to participate in a two-day digital education summit where participants will engage in hands-on learning, collaborate with peers and hear from digital technology thought leaders.
About Lynn Pence: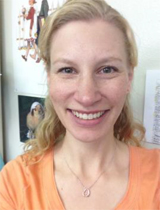 Lynn Pence is a Curriculum Technology Integrator at Orange Grove Middle School in the Catalina Foothills School District located in Tucson, Arizona. In her role, she helps teachers implement technological tools into the classroom for the purposes of student engagement and achievement. Lynn co-teaches with teachers in the classroom when students are learning a new skill highlighted in their district-approved educational technology measurement topics. In addition, she is slated to provide professional development sessions for staff members that revolve around their district technology plan, school strategic plan or departmental requests based on the time of the school year, and participates in collaborative efforts when new technology policies are written, curriculum revised and student data collected. Lynn, along with her fellow colleagues, communicates new tools and ideas through the use of a site-specific blog called Pawerful Points and a district website called Stay Connected: Educational Technology in CFSD. Lynn also organizes and provides clarification on internet safety and cyberbullying lessons taught to students. The best part of Lynn's job is working with students and teachers to find tools that help them reach the desired learning goals for a class.