Listen to radio story here:
"Who is Dayani Cristal?" is a new documentary film that pieces together the story of a Central American migrant who died trying to cross the Arizona desert into the United State illegally.
The film, directed by Marc Silver, is premiering across the world and part of it was shot in Pima County.
"Marc's film comes at a really important time, and I think that the lens he uses to tell the story is very human-centered," said Robin Reineke, executive director of the Colibri Center for Human Rights. "It's a family story, not so much an immigration film, but really a human rights and human interest film."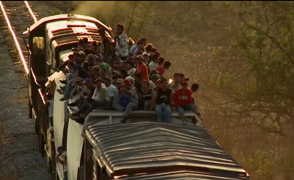 Migrants on their way to the U.S. riding on top of "La Bestia, El Tren de la Muerte" Spanish for the beast, train of death, which travels from southern Mexican border with Guatemala upward. (PHOTO: from Who is Dayani Cristal? website)
On average, the Pima County Office of the Medical Examiner investigates the deaths of about 165 migrants each year, said Reineke, who is featured in the documentary.
"That's the equivalent of a plane crash every year in Southern Arizona, and it continues to happen, yet it is not part of the conversation of immigration reform," she said.
From 2003 to April 30, 2014, the OME has examined 2,017 sets of migrant remains, and hundreds of those have not been identified.
Silver found out about the hundreds of skeletal immigrant remains a few years ago, and became interested in documenting the issue and showing it to the rest of the world.
"We asked ourselves if perhaps we could make a film that questioned, what could one skull reveal about what's going on in the world in relation to migration and economic forces," Silver said.
He spent time filming at the OME, and interviewed people from the Mexican Consulate in Tucson and the Pima County Sheriff's Department.
"When you see at the end of the film the number of names of people who live in Tucson that Marc interviewed, it's quite impressive, and I always feel proud of the Tucson community when I see that," Reineke said.
The documentary will be screened at The Loft Cinema Saturday, May 3 at 7 p.m.
There will be discussion after the film with Reineke and Kat Rodriguez from the Colibri Center for Human Rights, and Silver will join the conversation via Skype.