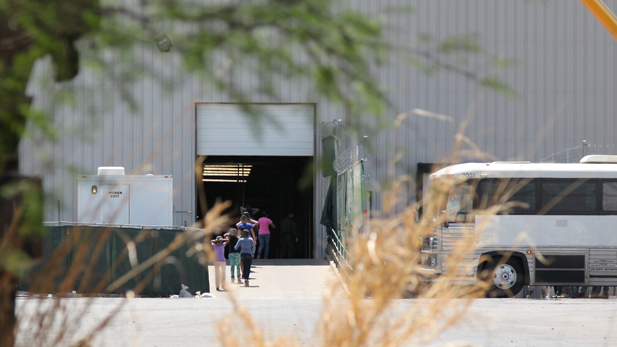 Immigrant children at Border Patrol's Nogales warehouse where they were processed and detained in June 2014. (PHOTO: Fernanda Echavarri, AZPM)
Listen:
U.S. Rep. Raul Grijalva Monday turned down an opportunity to tour the Border Patrol holding facility in Nogales, where about 1,000 unaccompanied minors are held.
Grijalva, D-Ariz., arrived at the compound about 2 p.m. with five representatives from religious communities in Tucson; his daughter, Tucson Unified School District board President Adelita Grijalva; and an aide to U.S. Rep. Ron Barber.
"When we got to the gate, we were told that it came from Washington and that only the member of Congress and designated staff could take the tour, and I said 'I'm not going to do that,'" Grijalva said.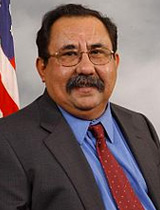 U.S. Rep. Raúl Grijalva, D-Ariz.
Staff from Grijalva's office had sent a list of people who would be taking the tour and there seemed to be approval from Border Patrol officials, he said.
"The point of this whole thing is transparency and letting the community know what's going on," Grijalva said.
Children began to arrive at the Nogales facility June 6. It is unknown how many of the more than 1,000 brought there remain in the shelter.
The youth, some as young as 3 years old, crossed the border illegally in Texas without adult relatives. The majority came from El Salvador, Honduras and Guatemala.
The more than 90 percent increase in unaccompanied minors apprehended in Texas' Rio Grande Valley forced Immigration and Customs Enforcement to fly some of the kids to Arizona to be processed, federal officials have said.
Criticism of the way in which the children were housed sparked when photos of dozens of teens crowded in a room and sleeping on the floor leaked two weeks ago. Conditions inside the Nogales detention facility have improved, according to government officials from Guatemala and El Salvador, who have toured the facility and talked with the children.
The Federal Emergency Management Agency has been directed by the White House to treat this as a humanitarian crisis and is leading the efforts to make sure the children are housed in safe conditions, senior White House officials said last week.