Southern Arizona state Sen. Al Melvin withdrew from the governor's race Monday because he couldn't bring in the number of $5 donations needed to qualify for public funding.
Melvin announced his withdrawal in a news release. He was one of eight Republicans vying for the party's nomination in the open gubernatorial race.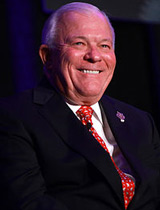 State Sen. Al Melvin.
He was running as a publicly funded candidate, meaning he needed to collect $5 contributions from voters and once he reached 4,500 such donations, he would get campaign funding from the state's Citizens Clean Election Commission.
Melvin said in the news release his campaign's fund-raising pace meant he would not get the state funding until after early ballots are mailed July 31.
That would give him a competitive disadvantage against candidates who are already airing TV ads in the race. Such ads typically cost hundreds of thousands of dollars, and as of the last campaign finance deadline in February, Melvin had $11,600 in his campaign account.
"This was a difficult decision but one that I am at peace with," Melvin said in the news release. "It was difficult because I believe so passionately about the principles we were campaigning for and because, as other candidates can attest to, you feel a tremendous responsibility to not let down your supporters and all those who have contributed time and treasure to the effort."
In the news release, Melvin did not endorse another candidate.
He said he will still be "on the campaign trail soon, and for years to come."
Melvin's state Senate term lasts through the calendar year. He represents Legislative District 11, which includes parts of Oro Valley and Marana. He cannot run for re-election because the deadline to file his candidacy has passed.