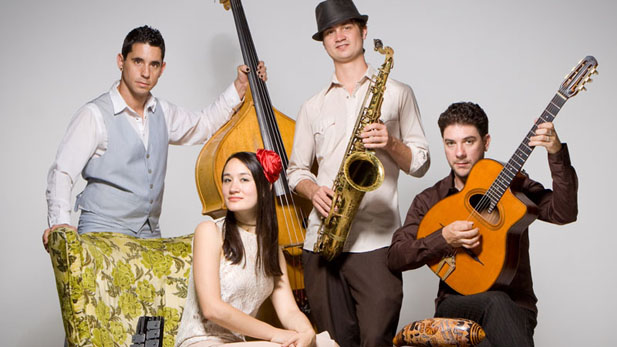 Andy Sheng
Web article written by Andrea Becerra
Jessica Fichot is a Los Angeles-based artist whose passion is traveling the world - and traveling in time - through music. She explores the pop and jazz roots of her French, Chinese, and American heritage in search of songs and inspiration that she then flavors with Latin rhythm and gypsy swing.
Listen:
Fichot said that she enjoys singing in different languages, even if she doesn't speak them perfectly. She tours mostly in the U.S., but has also performed in Europe and China, where she said she appreciates the diverse reactions from her audience, even when they don't understand the language.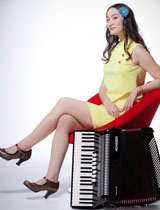 Jessica Fichot enjoys being called a chanteuse. (PHOTO: Andy Sheng)
"It's always interesting for me to play in China because it's such a different culture. Every time I play there everybody is filming the show, it's kind of incredible. Whether it's the teenagers or the 60-year old grandmothers, everybody is there with an iPhone or an iPad filming the shows. They react really strongly when I play a song in Chinese that they know. But I think also, some of the more up-tempo up-beat music that I sing and play in French is very crowd-pleasing. People will start tapping their foot or dancing. It's always very interesting," she said.
She said she draws some of her inspiration from the 1940s and French chanson.
"I was very influenced by sounds from Django Reinhardt and the Gypsy swing era. It's a sound I really grew attached to," she said.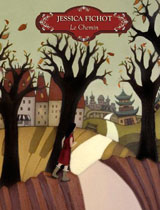 (PHOTO: Art by Xenia Schmidt)
Fichot currently has two albums, the second was released in 2012, and she is currently working on a third album that will include songs from Shanghai, written in the 1940s. "When this acoustic style of music was very popular in France, there was also a style of music in Shanghai that fused Chinese singing with European swing," she said.
The style of music is called shidaiqu. It started in the 1920s, but by the '50s it was banned by the Chinese government. Fichot considers the peak of the music to be in the mid-'40s.
Although she finds it hard to pin down a specific role model, she particularly enjoys the music of Yao Lee because she likes the simplicity of her voice in comparison to others from her time. She referred to a popular singer, Zhou Xuan, as the "Chinese Billy Holliday," because of her unique voice and tragic life story.
She described it as, "A style that for me is both familiar and foreign. Foreign because it's in Chinese and familiar because there's a lot of similarities between the songs from Shanghai from that era and French songs—there's a lot of clarinet, a lot of accordion, a lot of piano a lot of upright bass. An interesting fusion that not a lot people in the United States are aware of."
Southern Arizonans will have the opportunity to hear music from Jessica Fichot and her quartet on Friday, Aug. 1, at the Monterey Court in Tucson. The band then travels to Flagstaff for a performance at The Arboretum on Saturday, Aug. 2.