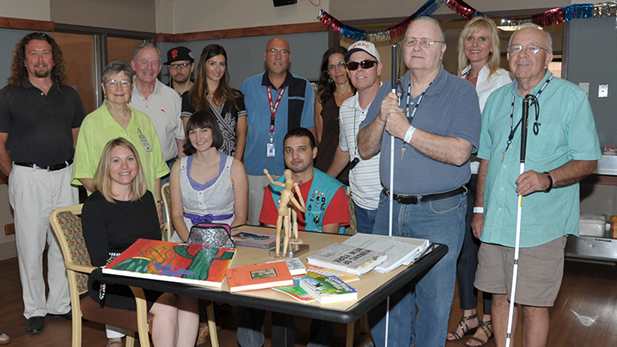 Group portrait taken to celebrate the first year of art therapy at the Southern Arizona VA Healthcare System.
A gathering at the Southern Arizona VA Healthcare System hospital complex on Tucson's South Side celebrated the first anniversary of an arts therapy program that participants are saying is making a difference.
The program offers music, creative writing, and visual arts as a form of therapy that can help veterans access emotional and personal needs, which can otherwise be difficult to express.
Listen:
The program began as a series of musical performances at the VA hospital that were organized by the Southern Arizona Arts and Culture Alliance. The lunchtime concerts were underwritten by a SAACA donor, who wanted to offer something new to help veterans to convalesce.
Kate Marquez, the executive director of SAACA, says that there was an instant show of support from musicians in the Tucson area, many of whom wanted to do more for the residents and outpatients at the VA. Artists from other disciplines soon followed.
In addition to hiring licensed art therapists to begin teaching classes in music, writing, and visual art, SAACA began to provide professional development for artists seeking accreditation.
Marquez is positive about the growing number of veterans who are participating in the program, but says that the VA hospital is just the first of many community partners that she would like to see adopt the arts as a therapeutic alternative.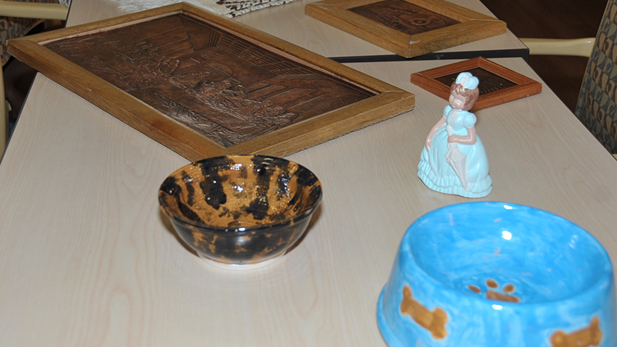 A small assortment of projects being done by vets in SAACA's arts therapy program.