Gov. Jan Brewer has officially endorsed former Mesa Mayor Scott Smith as next Arizona governor at a Thursday event, giving Smith's campaign "a huge boost of momentum," according to a news release from Smith's campaign office.
Brewer said Smith shares her values on Medicaid expansion, Common Core, the economy and border.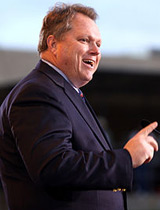 Scott Smith
"Our next governor must tell Arizonans the truth about where we stand and be able to make the tough choices to move our state forward," Brewer said at the event according to the release. "As mayor of Mesa, Scott Smith has proven he will be honest with Arizonans and bring people together to face our greatest challenges."
"He has my full support in this campaign and I ask voters to join me in casting a vote for Mayor Scott Smith by early ballot or on Aug. 26 at the polls," she added.
Smith said he was honored by Brewer's support.
"It was her leadership that led Arizona out of the Great Recession and into the beginning of the Arizona comeback," he said in a statement. "I will work tirelessly to use the foundation she has left behind to unite all Arizonans and build a better Arizona together."
A new poll of the Republican primary showed Smith has 21 percent of voters, slightly behind state Treasurer Doug Ducey who has 23 percent, The Arizona Republic reported Wednesday.
The other candidates are Secretary of State Ken Bennett, former Internet company executive Christine Jones, former California Congressman Frank Riggs and Andrew Thomas, former Maricopa County attorney.
The six Republicans will face off in the Aug. 26 primary, with the winner going up against Democrat Fred DuVal, Libertarian Barry Hess and Americans Elect candidate John Lewis Mealer in the November general election.