(VIDEO: azpm)
This fall's incoming freshman class will be the biggest in the University of Arizona's history. More than 7,800 students are anticipated to begin classes Monday, which is up from 7,200 this time last year.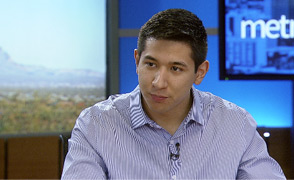 Isaac Ortega, president of the Associated Students of the University of Arizona.

AZPM Staff
The Associated Students of the University of Arizona are planning to engage with them on multiple areas, including getting them more involved with voting in local and statewide elections, said Isaac Ortega, ASUA president.
"We want to get them educated and excited to vote for the mid-term elections," he said.
Ortega noted it is also important for non-Arizona residents moving in to register to vote in the state and be civically involved, especially if they are planning to stay after graduation.
ASUA has planned activities, such as a "welcome back" concert next week to kick off primary election week. They will be handing out information related to where and how to register to vote, as well as where polls are located.
University-wide, Ortega said he'd also like to double the number of students who vote for ASUA offices.
"I think it's important for students to know who's voicing their opinion when it comes to those big meetings on the big tables with the university administration," he said.