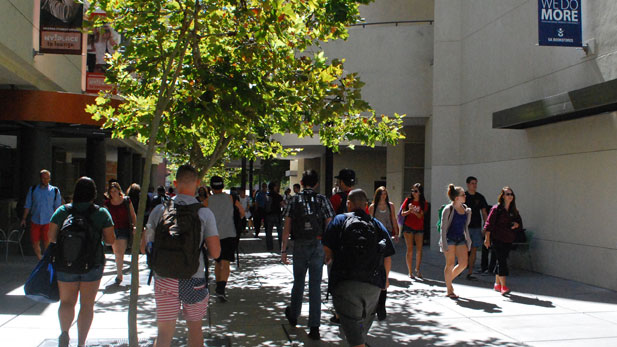 University of Arizona students.

Louis Sanders
Listen:
Andrew Comrie joined the University of Arizona as a climatologist in the early 1990s, was made dean of the UA Graduate College in 2006 and promoted to provost two years ago.
When asked what exactly a provost is, Comrie, who's adept at making analogies between the academic and outside world, said:
"If I'm speaking to parents I say, if this was a high school, I'd be the vice principal. If I'm speaking to people from industry, I say I'm the chief operating officer. And it gives people a sense that I'm the senior VP in charge of all the academic affairs."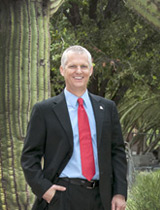 UA Provost Andrew Comrie (PHOTO: University of Arizona)
This year, there's a record number of students on the UA campus. The university's growth goals of late mark a clear change in direction from the past, when enrollment was essentially capped at 40,000.
"Arizona is growing, and the Board of Regents have consistently wanted us to grow," Comrie said. "And we have wanted to grow. Of course you want to do that in a way that's appropriate to the organization. That we don't grow too much or too fast. But this notion that we should somehow limit our growth or our size when the needs of the state are so huge doesn't line up."
Comrie noted a few ways in which the university is helping to meet Arizona's needs. Creating a veterinary school, for example.
"There's been a desire on the part of Arizonans to have a vet school for decades," he said. The UA's vet school is slated to open fall 2015.
He also highlighted the ways research on campus is contributing the better understanding of climate change, of arid land agriculture - ways the campus is meeting the needs of the world as a whole.
Regarding the needs of students, Comrie noted the school introduced a stabilized tuition plan this year, in order to make the cost of college more predictable.
"I liken it to the difference between and adjustable rate mortgage and a fixed rate mortgage," Comrie said. "You know you're paying a bit of a premium for the fixed rate, but that number will stay constant the whole time. And people really like that cause of the predictability."
The fall semester started with several other big changes on campus, including a tobacco ban and paid parental leave for university staff members - policies that changed based on input from the community, Comrie said.
The beginning of the school year brings an energy to campus that Comrie called contagious.
"You get to tap into the possibilities of life. You really see the future is truly promising. It doesn't always seem that way in the news, but you realize we're going to be okay," he said.