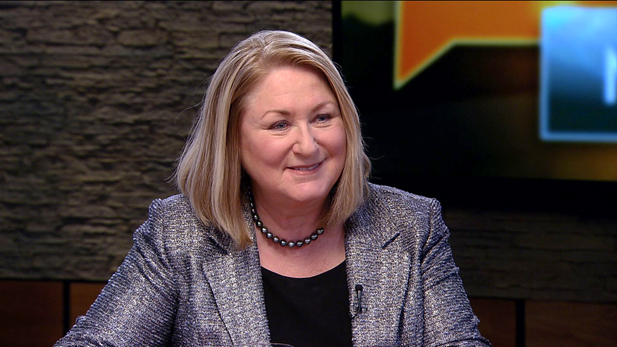 University of Arizona President Ann Weaver Hart.

AZPM
University of Arizona President Ann Weaver Hart's contract was extended for one year to 2017 Wednesday by the Arizona Board of Regents.
The approval at a special regents' meeting in Phoenix came on the same day the Arizona Daily Star disclosed there has been both criticism of and expressions of support for Hart from major donors to the university.
One regent, Bill Ridenour, voted against the extension for Hart. The regents also approved a one-year extension of Arizona State University President Michael Crow's contract, until 2019.
The Star reported that it reviewed email exchanges between donors and at least one member of the regents, obtaining the information through public records requests.
Among the critics is Sarah Brown Smallhouse, a former chair of the Board of Trustees of the UA Foundation, the university's main fund-raising entity. The Star quoted a June 20 email from Smallhouse to Board of Regents member Rick Myers in which she said Hart "has very few supporters on the UAF board – some are campaigning to get her removed."
Smallhouse's email also said: "Faculty and staff are afraid. Lawsuits abound at the hospital. I fear deeply that core teams of our academic stars will start to look elsewhere."
Myers, a Tucsonan who helped recruit Hart to the UA and remains one of her biggest supporters, responded to Smallhouse's email with one of his own, saying, "I'm sorry that selfish individuals spread their concerns in an inaccurate and emotional way."
The Star quoted an email to the newspaper from Smallhouse as saying she had "softened my views" since she first wrote to Myers, partly as a result of hearing from Hart.
Hart told the Star in an interview that she is doing what the regents have asked: "Pull this university into the 21st century and make it one of the best."
"If you're going to really lead, you have to be willing to make changes that not everyone may support," she said in the interview with the newspaper. She said her intent is "to do what's right for the University of Arizona."
Arizona Public Media operates as an editorially independent unit of the University of Arizona, and its broadcasting licenses are held by the Arizona Board of Regents.