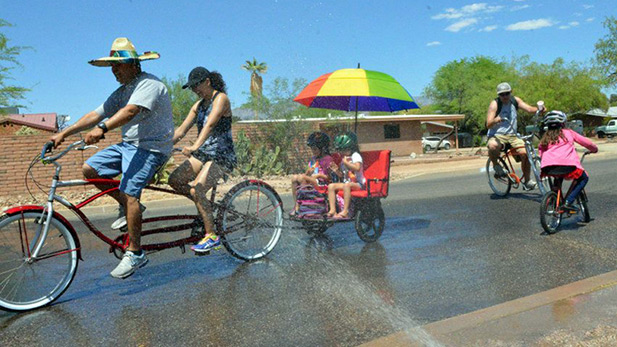 A family participates in Cyclovia 2013.

Damion Alexander
Listen:
The Living Streets Alliance and other organizations are getting ready for Cyclovia Tucson, which is expected to have tends of thousands of participants.
Roads in midtown Tucson will be car-free for people to enjoy.
The route goes from Blacklidge Drive and the Fontana Bike Boulevard on the north to Sixth Street and Sixth Avenue on the south.
It will allow bicyclists, skaters, pedestrians, strollers, artists, food vendors and others to navigate the long stretch without having to worry about cars or trucks.
"If you're looking for an excuse to fall in love with Tucson again, you should come to Cyclovia," said Kylie Walzak, the program manager for Living Streets Alliance. This is the fourth year she works on the event.
Walzak explained that Cyclovia is part of an international movement called Open Streets Project, where communities in the United States and around the world are looking at utilizing streets in more flexible ways, since they typically take up the largest spaces in urban areas.
She said 20,000 to 25,0000 participants are expected at the November celebration in Tucson.
"It makes you see your community and your neighbors in a different way, in a much more positive way," she said
Ciclovía originated in Bogotá, Colombia in the 1970s and it is now held every Sunday and holidays, when dozens of car-free miles are available to the public.
Tucson's event began as an annual celebration, but now it is held biannually in the spring and again in autumn.
Cyclovia will take place Nov. 2.