Listen:
The election in Arizona's 2nd Congressional District will give the state its first congressional recount ever.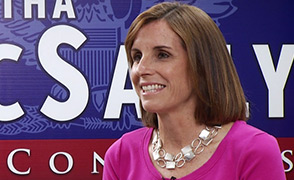 U.S. Rep.-Elect Martha McSally, R-Ariz.

AZPM Staff
The recount coming in less than a month will decide if Democratic incumbent Ron Barber loses his seat in Congress, where he represents Tucson and Cochise County. His campaign said the recount is critical because of the potential for human error in ballot counting.
But Michael O'Neil, a political pollster in Tempe, said voting technology makes it unlikely there was a large enough human error to push Barber ahead of Republican Martha McSally. She declared victory Wednesday night with a 161-vote margin after all votes were counted.
"It is very rare for machine-read ballots to show a different result when you go through the recount," he said.
Still, Barber isn't conceding.
"I am not going to concede until the election is certified and the recount is conducted," he said.
O'Neil said the margin of victory could change if a judge orders the state to count provisional ballots that were previously thrown out. Those are ballots that were cast at polling places but were questioned because the voters weren't registered or were in the wrong polling place. Nearly 800 of those were not counted.
Early in the week, McSally challenged the viability of other ballots, saying they were not cast according to state law and should be voided. A judge denied her request, and she said she isn't certain whether she will appeal.
"We want to make sure that every vote is counted, but we uphold the law," McSally said in an interview this week. "We've been providing oversight to this whole process."
That's similar to what Barberhas said: Every lawful vote should be counted. The difference may come in which votes are deemed lawful during the recount, should either candidate take legal action. Barber said Thursday he wasn't certain whether he will initiate legal action.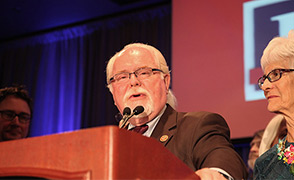 Democrat incumbent Rep. Ron Barber at Pima County Democratic Party gathering in Tucson on Election Day, Nov. 4.

Fernanda Echavarri, AZPM
O'Neil said there are many possible legal challenges, and the recount won't even begin until the secretary of state certifies the results in December.
"The closer it gets, the more grounds there's going to be for finding something that could potentially change the outcome," he said.
O'Neil said the recount, and subsequent legal challenges, could take a while.
The next Congress starts the first week of January.
McSally said part of her immediate job is addressing the division in the district.
"If I should win, my focus is going to be to make sure that we heal and we unite and we move forward together and put this behind us," she said.
That's part of democracy, and O'Neil said it's what the Arizona Independent Redistricting Commission intended when it drew up the state's districts.
"Democracy in our current system is a rare phenomenon," he said. "This is one instance where we have it. Arizona's lucky: We got one district out of three - three out of nine - are competitive. Throughout the nation as a whole 90-95 percent of the districts are not competitive. This is one of a handful, in this district ... your vote counts."
He said regardless of which candidate is sworn in come January, it's accurate to call the race a tie.
The last state-mandated ballot recount was in 2010 for a referendum on initiative petition deadlines, and it did not change the outcome.