Listen: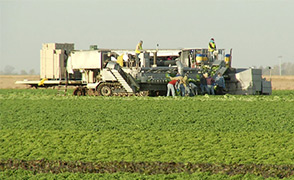 Agriculture workers in Yuma, Ariz.

AZPM Staff
President Barack Obama's executive action on immigration included changes for high-skilled workers but not for undocumented workers in the agriculture sector.
Although the president's changes to immigration policy do not address farmworkers directly, thousands of Arizona farmworkers could still benefit from one initiative, said Giev Kashkooli, vice president of the United Farm Workers.
He said many undocumented people in agriculture have U.S. citizen children and have lived here for more than five years, meaning they could qualify for the president's three-year work permit.
"The huge majority of the nation's agricultural workforce does not have legal status, it's a tremendous first step for a group of people who literally feed all (of) us everyday, so we are very excited for what that means," he said.
To qualify for deferred deportation, immigrants must also pass a background check and pay, what the president said, is their fair share of taxes.
"We have found that most farm workers are already paying taxes, in the hope that one day they will get some legal status and as a way of showing their respect for this country," he said.
Kashkooli said the president's executive action can't make changes to visas for farmworkers, that's something only Congress can do.