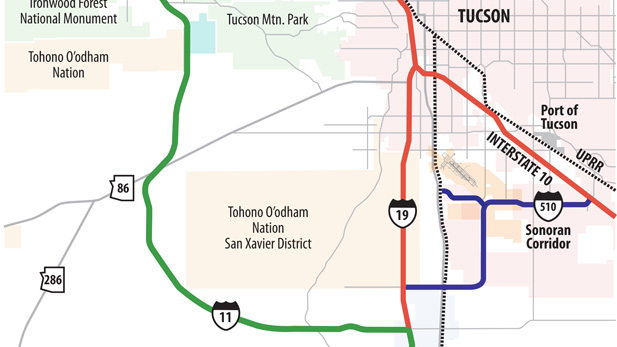 Proposed I-11 bypass west of Tucson.

Pima County
Nevada officials have awarded $83 million to a road construction company for first phase of what could eventually be an interstate linking Las Vegas, Phoenix and Tucson.
The Nevada Department of Transportation awarded a construction contract Monday to North Dakota-based Fisher Sand & Gravel for a 2.5-mile-long portion of freeway and interchange in Boulder City.
The road is part of the Boulder City Bypass that aims to direct truck traffic away from downtown Boulder City, and part of the proposed Interstate 11 that would give drivers a more efficient route to Arizona.
The project also calls for a 180-foot-long steel truss bridge over U.S. 93 that will reconnect railroad tracks that were severed by the highway.
Construction is set to begin in April and wrap up in early 2018.
I-11 plans are on the drawing boards in Arizona. In Pima County, officials have proposed that the road branch off of Interstate 19 south of Tucson and go through Avra Valley to bypass Tucson. In the Phoenix area, officials have planned for it to bypass the city to the west.
Eventually, officials have said, the route would serve as a transportation corridor between the Mexican and Canadian borders, carrying traded goods to and through the cities and states along its path.