The American Civil Liberties Union Arizona and San Diego chapters have sued the U.S. Department of Homeland Security to force it to produce records related to alleged abuse of children while in custody of the Border Patrol.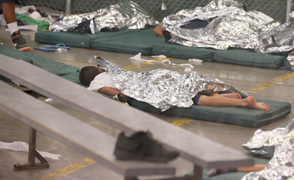 Inside the Nogales shelter in June 2014, children sleep on mattresses on the floor.

AP
The
ACLU
filed the suit in federal court Wednesday, about two months after filing a public records request with the department asking for the documents.
"Not only does the failure of DHS to produce the requested documents violate the Freedom of Information Act, it also impedes the ACLU's efforts to educate the public on matters of pressing concern, namely, the mistreatment of children in Border Patrol custody," a press release from the ACLU said.
Last summer when Border Patrol and U.S. Customs and Border Enforcement apprehended thousands of unaccompanied minors – mostly from Central America – the ACLU filed complaints to DHS on behalf of 116 children.
The children alleged abuse and mistreatment, including harsh temperatures in the detention facility, severe crowding and denial of adequate hygiene supplies, bedding, food, water and medical care, according to the ACLU.
U.S. Customs and Border Protection, the agency that oversees Border Patrol and Customs and Border Protection, said in a statement that it does not comment on pending litigation.
"In response to the unprecedented humanitarian situation last summer, U.S. Customs and Border Protection personnel around the country responded in a professional and compassionate manner," the agency said in an emailed statement.
"Border Patrol Agents provided safety, shelter and care for immigrants in custody from the initial encounter up until they were processed and out of the agency's custody," the statement continued. "In the face of overwhelming numbers of unaccompanied children crossing the border in South Texas, U.S. Border Patrol agents took extraordinary measures to care for these children while in custody and to maintain security in overcrowded facilities."