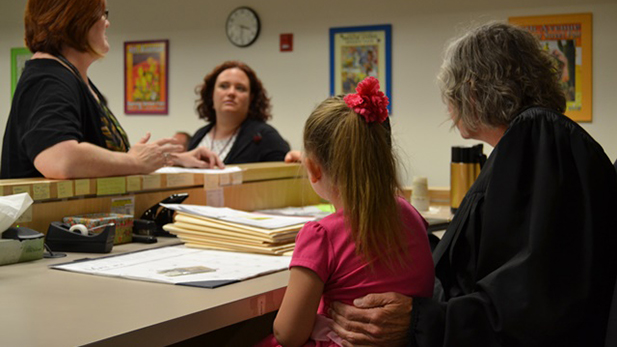 Family Drug Court Judge Susan Kettlewell (right) and her granddaughter listen to discussion on a family reunification. (PHOTO: Courtesy of Kim Smith, Pima County Juvenile Court)
Listen
A successful Pima County program which reunites children and parents after a state intervention is threatened with budget cuts.
Governor Doug Ducey's state budget cut $23 million from Pima County's general fund and now the county must decide how to fill a multi-million dollar budget deficit before the next fiscal year begins on July 1.
With a ninety percent family reunification rate, what makes Pima County's Family Drug Court successful?
Inside the courtroom at a recent men's session of Family Drug Court, Commissioner Susan Kettlewell spoke to those in the audience who have recently lost their children because of drugs or alcohol.
"Family Drug Court is a voluntary program," Kettlewell said. "You don't have to join, but parents who (do) join and successfully complete Family Drug Court have a much higher rate of having their children returned."
"I think the community would be at a loss if we weren't able to continue to provide that service."
Kettlewell is a longtime figure in Arizona's judicial scene. In the '90s, she served as Pima County Public Defender, and had what a 1996 article in the Tucson Citizen called a "long simmering conflict" with County Administrator Chuck Huckelberry.

In the courtroom, Kettlewell addressed several men who are undecided on whether to join the program.
"(Graduates) have a much higher rate of having their children returned," Kettlewell said. "It's in the 90th percentile as compared to maybe 45 or 50 percent, so it's about double."
Pima County Family Drug Court's rate of reunification is echoed in similar programs throughout the U.S. The family drug court model has expanded to more than 300 judicial districts since it began in Reno, Nev. in 1995, reported by the National Drug Court Institute in a 2011 report.
"When you see the family sitting up there and all their children are with them and sometimes the kids even speak up," Linda Perry, a recovery support specialist, said. "They get really tearful. They're grateful, they have a new parent. "
In a meeting this week, county officials said up to $6 million could be cut from the budgets of Superior Court and Juvenile Court. Records in 2013 show the courts received roughly $30 million and $22 million, respectively, from the county's general fund. How extensively programs including Family Drug Court will be affected is not known right now.

Rehabilitations programs such as Family Drug Court save a significant amount of taxpayer money, by reducing long-term court costs, inmate expenses, and law enforcement costs.
A report by the National Association of Drug Court Professionals shows state and local governments save anywhere from $4,000 to $12,000 per participant in court rehabilitation programs.
Kettlewell argues the program has community benefits that beyond simple dollar figures.
"That's the major goal of Family Drug Court, to help parents get sober and stay sober," Kettlewell said. "I think the community would be at a loss if we weren't able to continue to provide that service."
Family Drug Court is one of many county programs expected to be part of the discussion next week when the Pima County Board of Supervisors begins budget hearings. With a $23 million shortfall, Juvenile Court alone faces a 15 percent cut in funding.