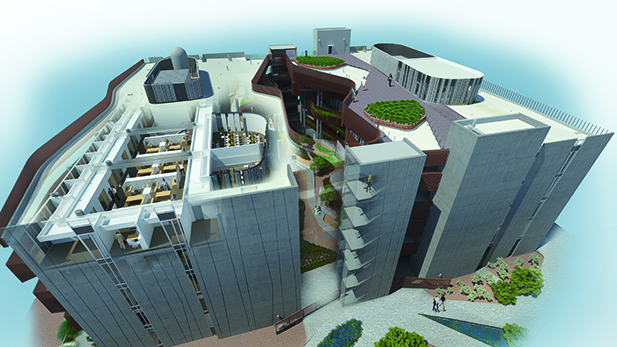 This is a rendering of the Environment and Natural Resources Building

GLN/Richard & Bauer
Listen:
A $75 million Environment and Natural Resources building is set to be complete this June at the University of Arizona. This is part of UA's sustainability efforts.

The design manager of the project, May Carr said this building will be home to the primary environmental research groups on campus, led by the Institute of the Environment. These departments are now scattered across campus.

"The mission is to get those groups together and help foster interdisciplinary research," Carr said.
But for Betsy Woodhouse, the deputy director of the Institute of the Environment, it is more than getting people together.

"It's having more environmental people than just us in the same area as well," Woodhouse said. "So it will really facilitate collaboration and getting people together."
The design of the building models a desert slot canyon. A slot canyon is a crevice sliced through a mesa that is created by rushing water and wind. Many of these canyons are less than a yard across and drop a hundred feet to the floor.

Woodhouse said because of the slot canyon design much of the outdoor areas will be shaded so even in the Arizona summer heat people can spend more time outside.
A main focus for ENR2 is its sustainable features.

The building's cooling system will reduce energy use by 20 percent compared to a typical building of this size.

To reduce water use, the building will have waterless urinals, dual flush toilets and low-flow and demand faucets. Carr said ENR2 goes even further by using a 52,000-gallon underground tank for water harvesting. Water harvesting will be done to a much bigger extent here than in other buildings.

"Typically we are harvesting it, but then we are metering it out into the street is where it usually goes," Carr said. "In this project we actually capture the water, filter it and put it back into the landscape."
This building hopes to achieve LEED Platinum certification. LEED certified buildings save money and resources and have a positive impact on health, while promoting renewable, clean energy.
It's nothing new for this university to build LEED buildings. ENR2 will be the fourth on campus if it achieves a Platinum certification.
ENR2 will also house a 600-seat classroom auditorium. This will allow the university to stop using Centennial Hall as a temporary classroom and bring more undergraduates into the new building.
Sarah Posner, an environmental studies student at the university, said she is excited share this oasis with students she may not have otherwise.

"My major is very unknown among the student body, but it is the fastest growing, said Posner. "I think more awareness of what I study could be interesting and maybe some recruitment will be involved if more students see what we are doing there."
The building will house faculty from the mathematics and atmospheric sciences departments, and the School of Geography and Development, the School of Natural Resources and the Environment
The building will be located on campus next to the 6th street parking garage.