Maricopa County Sheriff Joe Arpaio said in court Thursday his lawyer hired a private eye to investigate the wife of a judge presiding in a contempt of court case against the sheriff.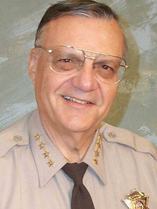 Maricopa County Sheriff Joe Arpaio. (PHOTO: mcso.org)
U.S. District Judge Murray Snow asked Arpaio after his testimony had concluded Thursday whether the sheriff was investigating his family.
"Are you aware that I have ever been investigated?" Snow asked.
Arpaio said he believed his former lawyer, Tim Casey, had hired a private investigator to look into a report that Snow's wife had commented that her husband did not want Arpaio to get re-elected in 2012.
"We weren't investigating you," Arpaio told the judge. "We were investigating some comments that came to our attention."
Casey, reached later by The Associated Press, declined comment, citing attorney-client privilege.
Arpaio's office has a history of investigating his opponents. Two elected county supervisors and a judge were among those investigated and charged with crimes in the past decade after feuding with the sheriff's office.
A lawyer representing Arpaio before Snow, who could find Arpaio in criminal violation of the judge's orders, said afterward that more information would come to light Friday in testimony from Arpaio's chief deputy, Jerry Sheridan.
As of now, said lawyer Mel McDonald, "There's been no evidence the sheriff ordered the judge's wife to be investigated."
Snow is deciding whether to hold Arpaio in contempt of court for violating his orders.
Earlier Thursday, Arpaio came under sharp questioning about his TV interviews, press releases and campaign fundraising as lawyers sought to use his own words against him in proving that he willfully defied a judge's orders to stop carrying out immigration patrols.
Arpaio gave soft-spoken and terse answers in his second day on the witness stand in a contempt-of-court hearing that could lead to fines, increased oversight of his agency and a possible criminal contempt hearing. He said, "I don't recall" on several occasions.
A lawyer for the American Civil Liberties Union played recordings of TV interviews, including a 2012 segment on Fox News with host Neil Cavuto in which the sheriff called out the Obama administration over its immigration policies and said he would keep arresting immigrants in the country illegally.
Arpaio apologized again for disregarding a 2011 order to stop the immigration patrols, issued after a judge found the agency racial profiled Latinos. He has acknowledged the violation, which lasted for 18 months.
"I have a deep respect for the courts," Arpaio said. "It really hurts me after 55 years to be in this position. I want to apologize to the judge. I should have known more about these court orders that slipped through the cracks."
Asked whether defying the order meant he violated his oath of office, Arpaio said, "I did not intend to violate my oath."
His testimony comes five years to the date after the signing of Arizona's landmark immigration law known as SB 1070. Protesters planned to march from the Arizona Capitol to the county jail Thursday to mark the anniversary and draw attention to immigration policies.
Arizona lawmakers passed the legislation amid growing frustration over illegal immigration. Arpaio became a leading figure in the national debate as his agency took an aggressive stance in arresting and detaining immigrants in the country illegally.
SB 1070 was largely nullified through a series of legal challenges, and Arpaio's practices were reined in by the courts.
His defiance of the judge's orders, however, landed him in court this week. The contempt hearing marks the boldest attempt to hold the sheriff personally responsible for the actions of his department.
Stan Young, one of the attorneys who pushed the profiling case, pointed to a news release a week after the order in which Arpaio said he would continue to enforce immigration laws. He also cited an Arpaio interview with Univision in March 2012 in which the sheriff was asked if he was still detaining immigrants who were in the country illegally.
"Yes, we are," Arpaio said then. "We just arrested 31 or more recently coming into the country illegally."
In court, Arpaio said he still had the authority at the time to enforce Arizona's immigrant smuggling law and other state immigration laws.