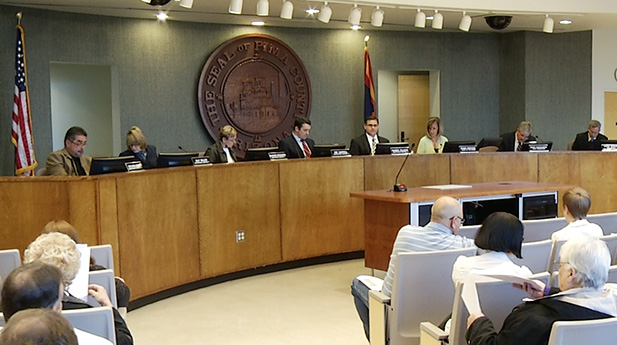 Pima County Board of Supervisors at a meeting in early April 2015.
Listen:
Pima County residents would face increased taxes under the budget proposed Thursday to the Board of Supervisors.
In a news release, County Administrator Chuck Huckelberry blamed Gov. Doug Ducey and the Legislature for the increase because of "the up to $23 million in state costs ... transferred to the county when passing the state budget in March."
Huckelberry recommended a total property tax increase of 3.2 percent. It would add nearly 18 cents to the tax rate, meaning an additional $26.97 annually on a house with a $150,000 tax valuation, said county communications senior editor Mark Evans.
The budget proposal is $1.16 billion, which is $23.5 million lower than the current fiscal year's budget. General fund spending, for day-to-day county governmental operations, would be reduced $19.1 million, including a 2 percent across-the-board cut for all county departments, the budget proposal said.
Huckelberry said in the news release that the county plans a legal challenge of the state pushing costs onto the county.
"We will challenge the legality of that transfer in court. And if the court agrees with us, then we will reverse the property tax increase," Huckelberry said.
This transfer is different, he said, because the state constitution requires the state to pay for this fund, Huckelberry said. Previous transfers that have rankled county officials were not as directly tied to state law, he said.
"This year, that cost transfer is as much as $23 million, which is a 28 percent increase in just one year. That just can't be absorbed without serious impacts to our state budget, and we think a substantial portion of those state cost transfers are not legal," he said.
If the county won the lawsuit after next year's budget passed, along with its associated property tax increase, the increase would be rebated the following tax year, he said.
The Board of Supervisors will take up the operating budget, tax rates and capital spending in the next two months.
Read summary of county budget recommendation here

View at Google Docs

|

Download File

Huckelberry's proposed budget, and related tax increase, is distinct from a set of questions that will be on the November ballot, in which the county will ask voters whether to raise property taxes to pay for special construction projects.
If voters say yes in the election, the associated property tax increase would come on top of any property tax increase the supervisors approve with the budget.