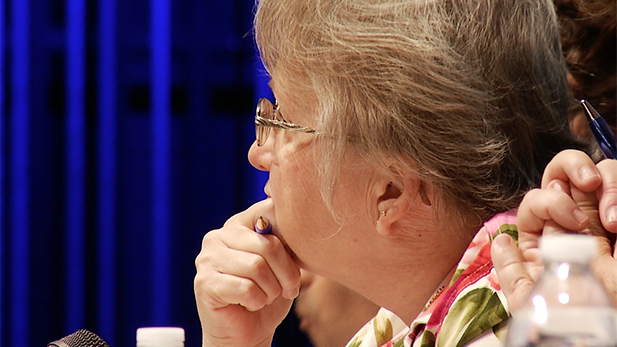 Bob Lindberg, AZPM
Listen:
Dozens of teachers, parents, retired educators and other community members spoke during Arizona Superintendent of Public Instruction Diane Douglas' stop in Tucson.
The common thread?
No one is satisfied with the state of education in Arizona.
Darlene Rowe, a 3rd grade teacher in the Amphitheater School District, said she has been teaching for 23 years and brings home less than $900 every two weeks.
"This is a noble profession, but I don't feel like it," Rowe said.
Jason Freed, an education advocate, says seven years of cuts to education funding have been detrimental.
"You can't trim the fat any more. You're on to muscle, you're on to bone at this point," Freed said.
About 150 people sat in the audience of Pima Community College West's Center for the Arts Thursday night. Douglas' visit to Tucson was part of her 14-stop We Are Listening tour. She was joined on stage by Tucson Unified School District Superintendent H.T. Sanchez and State lawmakers.
Not everyone in the audience lined up at the podium.
Geneva Escobedo came to listen. She's raising a nephew who's currently in high school. She's concerned about overuse of standardized tests and large class sizes.
"It's very hard for students to learn if they get a little bit behind to catch up if they need tutoring or the after school report," Escobedo said.
She said she was glad that a state leader took the time to talk to the public face-to-face.
"I don't think there are a lot of venues for it," Escobedo said. "I'm native Arizonan and I haven't seen very much of that in terms of our educational leaders."
True to the tour's name, Douglas spent the majority of the evening, chin-in-hand and taking notes. Though before speakers lined up at the podium, she addressed a topic that would become prevalent in the evening.
Common Core standards.
"I'll be honest with you I do not have the ability as the Superintendent to change that," Douglas said. "That either comes from the legislature or from the state Board of education, but we can hear what's on your mind and make recommendations to both of those bodies."
After the event, Douglas did answer questions from members of the press. Here's what she said:
On increasing teacher salary and retention:
"I think that's an issue that clearly has to be addressed by the legislature more funding never hurts. It's always nice to have more money to work with and make sure it gets into the classroom where it truly belongs."
On her disagreements with the State Board of Education:
"That's a matter of law, it needs to be resolved by the courts. I focus on the children of Arizona every since day and that's the number one priority.
"We are a nation of laws, following laws is important and making sure that we adhere to them if that's some little lesson that our children take away from it that's not a bad thing."
On what she learned in Tucson:
"I thought the idea of maybe a newsletter or something that would put out some of our action items and things we are working on is a really great idea."
If you didn't make it to the event, comments for the Superintendent can be submitted at www.azed.gov/HearingEveryVoice or via e-mail at HearingEveryVoice@azed.gov.