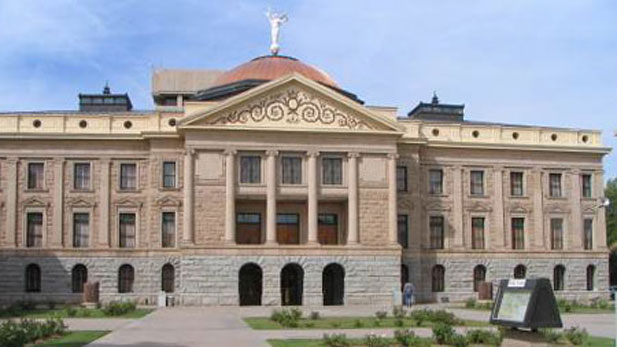 Arizona State Capitol
Listen:
A non-profit group is teaching local residents how to get their voices heard in Phoenix.
On a weekday evening at the YWCA in Tucson's Menlo Park, members of the Arizona Justice Alliance are discussing a scenario which could make the average voter a little nervous: sitting discussing policy face-to-face with an elected official.
The AJA is a statewide coalition of non-profits that lobbies for change to the prison system in Arizona. They wanted to get more residents politically motivated, especially those who might feel disenfranchised by the system, so they began holding legislative advocacy training session earlier this year.
"We felt that, if people are reluctant to talk with their elected officials, don't know how, feel like they don't have the facts, then really what's needed is just some training in how to do that," said Caroline Isaacs, the program director at the American Friends Service Committee, Arizona. The group is part of the AJA, and Isaacs is one of the advocacy-training advisors.
She said coaching the average voter in how to get a meeting with their representative isn't hard. She said the difficult part is convincing someone that their personal experiences are valuable.
"I think that people are hopefully, pleasantly surprised that the process is as straightforward as it is," Isaacs said. "That it's not rocket science, that it's pretty much like getting any other meeting... I think the biggest hurdle for folks is that they think they have to be experts in some way in order to justify their speaking on a subject. And that is not the case."
Stefanie Mach represents Tucson's District 10 in the Arizona State Legislature. She said hearing from residents in her district is an essential part of how she votes on legislation.
"The best information I can get from a constituent is their personal experience, whether they're an expert in the field, whether they're a person who has experience with the issue. But that's where I get a lot of my information," Mach said.
Mach said voters shouldn't be shy to discuss controversial issues with elected officials, but the tone of the conversation is crucial.
"The biggest thing is really to approach us," Mach said. "We're people. We have good days, we have bad days, but we want to hear from you. You deserve to be heard because you are a member of this community. And no matter what your experience is, we'll have an exchange, which means I'll learn from you and hopefully I can teach you something as well."
The AJA's advocacy training focuses on criminal justice issues, but Isaacs said the sessions are not politically divided.
"It's absolutely critical that folks know that this is a completely non-partisan process," Issacs said. "The point of this is for us to speak to our entire state legislature and inform everyone of the myriad of views that their voters hold."
More information about the Arizona Justice Alliance's legislative advocacy training can be found here