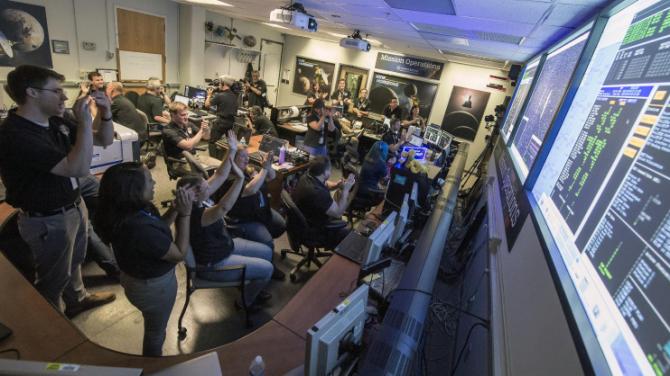 Photo courtesy: NASA
Listen
Scientists are taking their first detailed look at photographs and data from Pluto, after the New Horizons spacecraft made the first flyby of the dwarf planet Tuesday.
New Horizons traveled more than 3 billion miles during its nine-year journey, and flew as close as 7,750 miles from Pluto.

Now it's starting the time-consuming task of sending information back to Earth.
Veronica Bray is a University of Arizona researcher on the New Horizons mission team in Laurel, MD. She says the earliest up-close pictures of Pluto are revealing smoother ground than expected, raising the possibility of ice and snow covering its surface.
"As Pluto orbits the sun, it gets closer to it on some parts of its orbit," Bray said. "We think some of the surface nitrogen ice could sublimate and contribute to the atmosphere. And then at colder points on the orbit, you'll get more nitrogen snow condensing down onto the surface."

Bray and other scientists at the mission headquarters are distributing information from New Horizons back to UA and other space science research locations.
Mission planners say New Horizons was designed to gather as much data as quickly as possible during its flyby. That means the spacecraft will return information stored in its onboard memory for a year and a half.

New Horizons' science instruments include spectrometers and dust detectors, along with its cameras, mapping Pluto's surface and studying the dwarf planet's five known satellites.