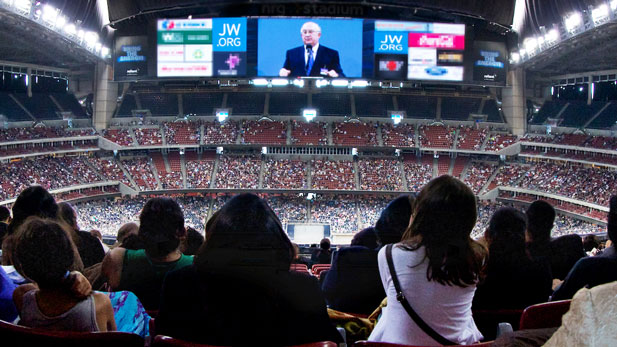 Jehovah's Witnesses hold hundreds of conventions in many cities around the world. Tucson's event serves Arizona and their local or visiting families, friends and guests. (PHOTO: Courtesy: Jehovah's Witnesses)
Members of Arizona's Jehovah's Witnesses and their guests are visiting Tucson this summer to attend their annual conventions.
The group holds them at the Tucson Convention Center on seven weekends, attracting thousands of visitors each time.
They have been meeting in Tucson every year since 1974 with the exception of 1978 when they held an international convention in Los Angeles.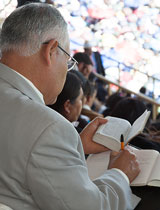 The Jehovah's Witnesses conventions are held in dozens of cities each year and deal with a different theme. (PHOTO: Courtesy: Jehovah's Witnesses)
"There's a couple of things that make our conventions unique and one of them is that the Jehovah's Witnesses that attend, we travel as families and they'll attend for all three days of the program," said Robert Soler, a Jehovah's Witness spokesperson.
"So it's important that we have a host city that is very hospitable and Tucson has been that through the years," Soler said.
Visit Tucson said the annual conventions are a valuable source of income for hotels and other tourism-related businesses, especially during the slower summer months.
The group's director of sales said that taken as a whole, the congregation's conventions are second only to winter's Tucson Gem, Mineral and Fossil Showcase in terms of visitors and economic impact.
A total of about 40,000 people attend all seven conventions.
"The economic impact is vast," said Visit Tucson's Graeme Hughes.
"It averages about 2.3 million per event so depending on how many we have each summer, then we just total that up," Hughes said.

Jehovah's Witnesses has about 25,000 members in Arizona and 1.2 million in the United States.
They hold conventions in multiple communities each year.