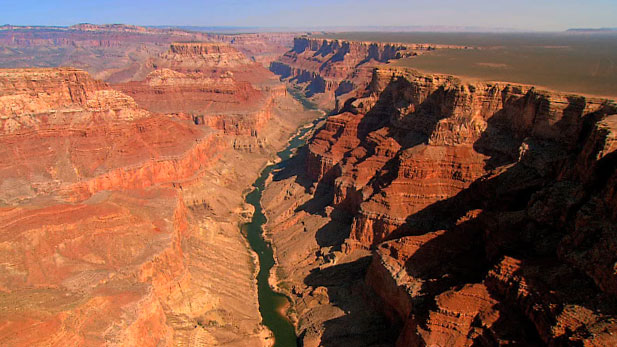 Grand Canyon

azpm
Listen:
By Andrew Bernier, Arizona Science Desk
Hiking into the Grand Canyon this time of year is popular, but dangerous because remote areas and high temperatures can make search and rescue efforts difficult. First responders are further hampered by old technology, slowing down rescue efforts.
Summer temperatures and increased visitors can put a strain on personnel and resources used for search and rescue missions. The park has seen a 25 percent increase in visitors and an additional 250,000 cars since January.
"It was something like 110 degrees down in the canyon, and we got slammed yesterday," said CJ Malcolm, ranger paramedic and the Preventative Search and Rescue (PSAR) supervisor. "Few days before that it wasn't so hot, and we weren't slammed. So, the strongest relationship between search and rescue events and calls for assistance is weather."
While digital radios are the current lifeline of immediate communication between first responders and emergency services on the rim — they still have limitations.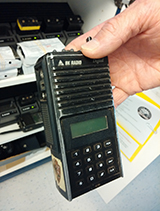 While digital radios are the current lifeline of immediate communication between first responders and emergency services on the rim — they still have limitations. (PHOTO: Andrew Bernier - KJZZ)
"Right now with our current radios, 30 percent of the transmissions are not going through, and that's a big deal when you are in emergency services," Malcom said.
This prompted nonprofit partner Grand Canyon Association (GCA) to try and replace some of the dated technology. Helen Ranney with GCA said they are trying to raise over $100,000 for things such as new radios and electronic preventative signage.
"The public now are very intune to electronic devices," said Ranney. "And they go right by some of those printed warning signs that are there on the bulletin boards."
Electronic bulletin boards can show real-time data in multiple languages since 40 percent of the park's visitors are international. Communication technology has come a long way at the canyon. Ken Phillips has been in search and rescue for over 30 years. He said his early days were not easy.
"We'd fly off in the helicopter and as we descend out into a remote section of Grand Canyon, we would basically say goodbye on the radio," said Phillips. "You're going to the dark side of the moon. That's really not the way to do business as an emergency responder."
The Grand Canyon is a remote wilderness with many peaks, valleys and ridges. It eats up and blocks radio signals. Phillips said some communication technology has improved at the canyon, though mostly well above it.
"Park wide radio system only reaches a small percentage of the back country and having satellite phones is a critical communication tool for emergency responders," Phillips said. "They can reach the hospital and be in direct contact with a physician."
But Grand Canyon infrastructure is still dated. Telephone lines in-canyon are older than lines coming from outside the park. These lines, which canyon weather and medical stations are linked to, fail often. This October, Malcolm is looking to collect data on possible line-of-sight digital transmission, testing popular points on and in the canyon.
"If that's a successful test, we're gonna beef that up to see if we can get voice and data," said Malcolm. "So, we can now use a wireless signal which makes perfect sense, it's only maybe a mile and a half, line of sight, down to these stations, to get voice connection and data connection and our weather stations connected."
Malcolm says it would send files to medical stations at busy parts of the trail and get reliable data from weather stations measuring the microclimates in the canyon. Still, radios are the primary means of communication.
"What is the most frequent question that we ask each other, on the radio? Where are you at?" said Brandon Torres, chief of emergency services at Grand Canyon.
Torres refers to radio towers on the rim as repeaters. With a few around busy trails, they relay signals from rangers and PSAR staff. While invaluable, Torres said they don't want too many.
"We don't want a repeater every five miles to gain a 100 percent coverage of the Grand Canyon because we would be defeating our wilderness mission," said Torres.
There are about 300 search and rescue missions a year and up to 600 hiker assists on the main trails. That work falls on the small staff of PSAR volunteers and rangers who are in charge of an area slightly larger than Delaware. They focus most of their effort on actively profiling visitors, checking gear, facial expressions, water and location. And if something seems out of place, they'll stop and talk to you. Ranney said this has been the biggest help in light of technology shortcomings.
"The PSAR program helps protect the lives of the visitors, helps protect the Grand Canyon itself but also protect our park service staff who put their lives on the line everyday when they're in the canyon because of stupid people like us who take on something that we should not have done," said Ranney.
And if more visitors can be reached and prepared before entering the Grand Canyon, it may save lives without needing to radio in for a helicopter.
The Arizona Science Desk is a collaboration of public broadcasting entities in the state, including Arizona Public Media.