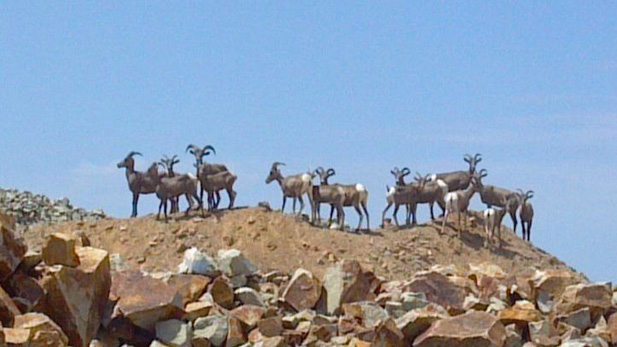 Bighorn sheep in the Silverbell area.
Listen:
Pneumonia has been confirmed as the cause of death of another bighorn sheep in the herd relocated to the Catalina Mountains north of Tucson, bringing the infection's death toll to four.
Mark Hart, public information officer with the Arizona Game and Fish Department, said the agency continues to closely monitor the health of the remaining animals.
"But we're moving ahead with plans for bringing in more bighorn sheep in November," Hart said. "They would likely be from a population previously exposed to pneumonia."
Hart said one such herd is located near the Yuma area.
Pneumonia has caused severe losses in bighorn sheep populations throughout western states.
Game and Fish is conducting a statewide survey of the sheep and Hart said a decision on whether or not to relocate more bighorns to the outskirts of Tucson will come when that is completed.
There are currently 35 sheep known to be alive in the Catalinas that are fitted with GPS collars. Hart said the population is likely between 42 and 44 including lambs that were born in the mountains that do not have GPS collars.