Mars exploration made its way to the silver screen this fall in the movie The Martian. Planetary science and space exploration have a long history in Arizona from the discovery of Pluto from Flagstaff's Lowell Observatory to the start of the University of Arizona's program at the dawn of the Space Age.
Arizona Week Friday looks at the University of Arizona's role in the planet's exploration.
On the program:
Can life sustain itself on Mars? The answer is the "holy grail" of the Phoenix Mars Mission, said principal investigator Peter Smith. He talks about the past, present and future of Mars exploration with host Lorraine Rivera.

The UA's HiRise program has collected high-resolution pictures of Mars for almost 10 years. Principal investigator and planetary biology Professor Alfred McEwen said it is still exciting to get new images each day.

NASA wants manned exploration on Mars in the mid 2030s. How to make that a reality is a topic of research at the UA. Space systems engineers Roberto Furfaro takes Arizona Week to one place that research happens – the Mars greenhouse.

Arizona Science Desk producer Sara Hammond describes the history of planetary science at the UA, which started in 1960s. "I think the idea that we can learn about other planets – perhaps go to other planets someday – is inspiring for young people to become scientists or engineers," Hammond said.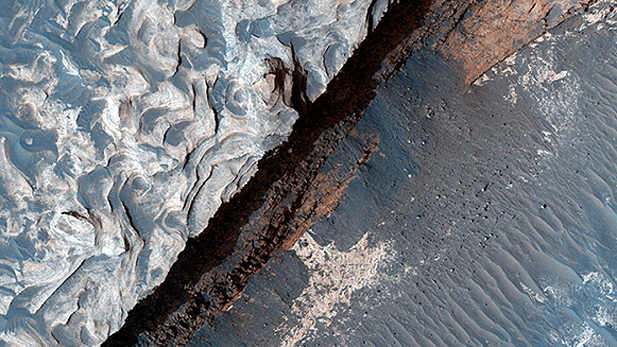 Aureum Chaos, a region on Mars, photographed March 20, 2013 by HiRISE, a University of Arizona experiment on the Mars Reconnaissance Orbiter.

NASA/JPL/University of Arizona