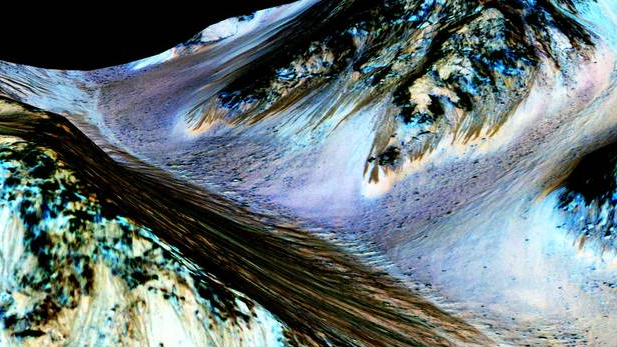 Dark streaks are evidence of water flowing on surface of Mars, UA and other scientists say.

NASA/JPL/University of Arizona
Listen:
By Sara Hammond, Arizona Science Desk
NASA confirmed what many suspected at the end of September; Mars does indeed have water flowing on its surface. At least– for part of the year.
That news makes planetary scientists eager to learn more about Earth's neighbor, the planet that may be the next place where humans venture. When they go, the availability of water will be critical.
"We have been focused to date on the search for signs of life on Mars, past life on Mars, and I think as we start to learn more about the water cycle, it brings to bear the obvious question about resource exploitation for future human exploration," said Jim Watzin, director of the Mars Exploration Program at NASA headquarters in Washington, DC.
"Of course, it's extremely encouraging for our exploration planning when we know we're going to be dependent on local resources ultimately for the support of the astronauts and the maintenance of their equipment, the provision of oxygen and drinking water and fuel for their return vehicles," Watzin said.
NASA announcement of the seasonal presence of liquid water on some of Mars' steep slopes has a deep University of Arizona connection.
UA geosciences undergraduate Lujendra Ojha made the observation in 2010 while studying images of the planet's surface taken by the HiRISE camera aboard the Mars Reconnaissance Observer. HiRISE - High Resolution Imaging Science Experiment – is operated by UA planetary sciences professor Alfred McEwen.
Ojha continues to study the features, called recurring slope lineae, as a graduate student at Georgia Tech and used another instrument on the orbiter, a spectrometer, to confirm what he was seeing was in fact liquid water.
As NASA plans for its next robotic mission to Mars in 2020, Watzin said these latest findings may result in additional discussion about where that robot may land.
"What it does do is open the door for more considerations of that go into our landing site selection and more considerations and analytic work as we try to examine how close we can get to these particular features," he said.
Mark Sykes, chief executive officer of Tucson's Planetary Science Institute, said the proof of liquid water on the surface will invigorate researchers' interest in answering the holy grail question about Mars – is there evidence of life on the planet?
"Past life is great, but current life is frankly more exciting," Sykes said.
What allows the water to be in a liquid state is the presence of salty substances called perchlorates.
That makes Mars scientist Peter Smith happy. The Phoenix Mars mission he led seven years ago first detected the presence of salt on the surface.
"Now we know that it's flowing water with high salt content and these salts are very special to me personally because they are the perchlorates that we discovered in the Phoenix Mission in 2008," Smith said.
Also to be determined is where that water comes from – the surface, deep within the planet, or drawn out of the atmosphere by the salts.
"Mars is not the planet of rust and iron oxide, but the planet of irony because every few years it seems like our understanding flip flops back to what it used to be and we change our ideas about Mars," Smith said.
"Mars keeps its secrets very tightly close to its chest, so to speak, and it's hard to unravel those mysteries."
The Arizona Science Desk is a collaboration of public broadcasting entities in the state, including Arizona Public Media.