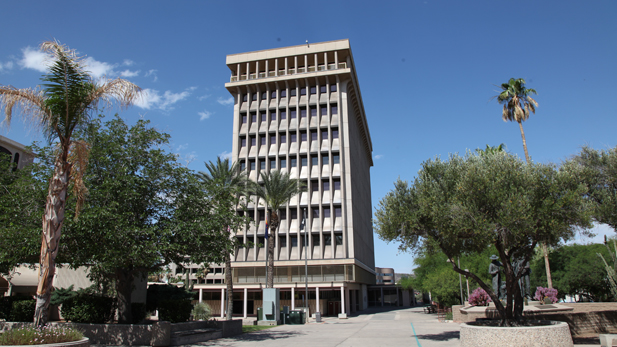 Tucson City Hall.

Andrea Kelly
Listen:
Three City Council members and the mayor of Tucson will be sworn in Monday to serve their next four-year terms.
Four incumbent Democrats who won their re-election last month begin their new terms as the city faces two lawsuits about its election system.
Council members Regina Romero, Paul Cunningham and Shirley Scott beat their Republican challengers.
After the election, the Ninth U.S. Circuit Court of Appeals said the city's election system is unconstitutional because it runs ward-only primaries and city-wide general elections.
The court said the city should make the primary and general elections the same and not switch methods during the election cycle. The city has appealed the ruling.
Separately, Republicans Kelly Lawton and Margaret Burkholder sued the city because of the Ninth Circuit ruling. The two say they should be on the council after they won the votes in their respective wards, although they lost in the city-wide vote tally.
In the meantime, the three re-elected council members and Mayor Jonathan Rothschild are being sworn in to their new terms at 10 a.m. Monday in City Council chambers.