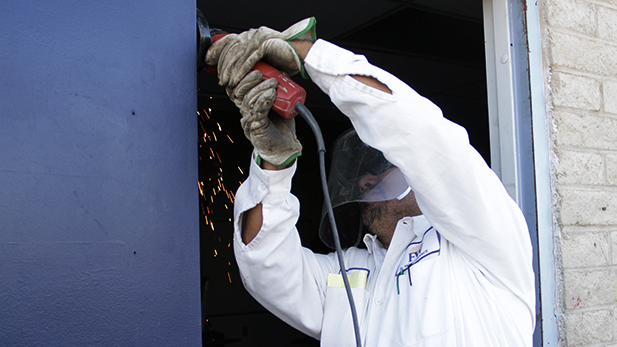 Flores welds a door hinge at Flowing Wells High School. He began at the district on the grounds crew and now heads the welding shop.

Mariana Dale, AZPM
Spend a day with the Flowing Wells Maintenance Department:
When a roof leaks in the Flowing Wells Unified School District, Ricardo Flores is usually the man assigned to the job.
"He's actually a welder, but he does roofing fantastic. You name it, Ricardo can do it," Director of Maintenance Michael Medeiros said.
In addition, Flores is learning to fix locks and is the night security guard at eight schools.
The conversation about education in Arizona is dominated by what goes on inside the classroom. But budget cuts have also made it more difficult outside the classroom.
"When you combine the loss of people and the loss of financial resources as far as capital to fix things we have to be sort of more creative," Flowing Wells Superintendent David Baker said.
On average, the maintenance department gets 20 to 25 work orders a day.
"A lot of them are clogged toilets," said Sandy Glenn, maintenance office administrative assistant. "We have insect problems, bees, ants, etc., etc. I mean, it never ends."
Glenn described her job as the "central point of all the madness." She fields requests from the schools and works with the department director to get the crew in the right places.
For example, Flores' schedule for a day in November included welding a door stop, fixing a broken hinge at a high school, a new name plate and a roof repair at Laguna Elementary School.
Flores loaded up the welding truck, a 1991 Dodge Ram. It's a little creaky, but it gets the job done, he said.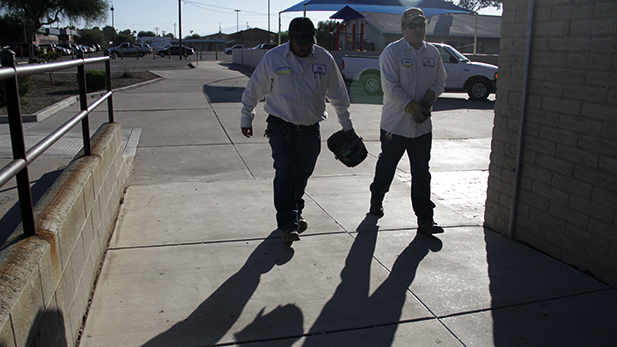 Flores often works with district locksmith Justin Brown.

Mariana Dale, AZPM
District locksmith Justin Brown joined Flores for the day.
"I thought I was going to be a locksmith, but I'm doing a lot more than that," Brown said. "Just going a little bit of everywhere, which is awesome, because I love learning the different trades."
The No. 1 tool a locksmith uses is WD-40, Brown said. To fix a roof, however, it's a thick white paste called "Kool Koating."
The roof the pair was assigned to repair was on Laguna Elementary. Flores glopped the coating onto a crack and smoothed over a strip of polyester fabric.
"This one definitely needs a new roof," Flores said. "We are kind of like buying the district more time."
Flowing Wells lacks money for a new roof. State funds for building renewal dropped to zero at the district in recent years, Superintendent Baker said. Now maintenance competes for money with textbooks and furniture.
"Those dollars have to now be stretched. They're very very small," Baker said. "So the way you stretch them is trying to recycle parts, recycle pieces to find equipment for cheaper."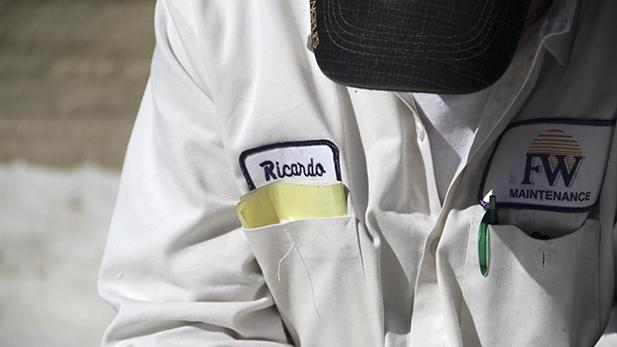 Ricardo Flores is the district welder by title, but he often helps repair roofs, assist the grounds crew and patrols schools at night.

Mariana Dale, AZPM
That is one reason Flores was named employee of the month at Flowing Wells this fall. A letter of recommendation lists the creative repairs he made in the district from salvaging wrought-iron railing to finding tools at the swap meet.
"Students probably don't see it directly," Baker said. "They see it indirectly when they go out on our playgrounds and they're all working properly and all their equipment is working well."
Before Flores took on the job in the maintenance department he was on the grounds crew. The former head of the welding shop became Flores' mentor. He passes on what he learned to Justin Brown.
"He likes to learn, same here," Flores said. "You know I ask him, 'Whatever you can teach me, I'm here. So don't feel bad.'"