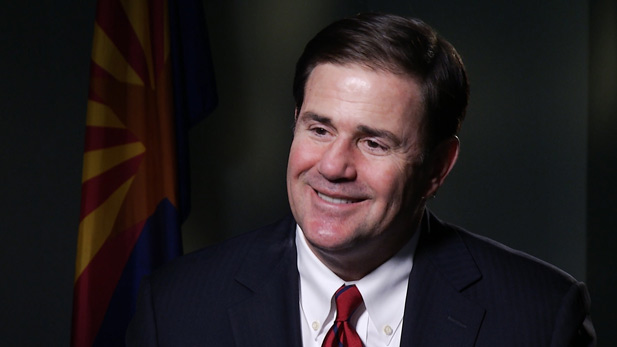 Governor Doug Ducey, during an interview with AZPM's Lorraine Rivera from January 2016.

AZPM
Gov. Doug Ducey's budget proposal called Friday for spending $200 million of the state's budget surplus this fiscal year and increasing spending next year by another $180 million.
"This budget brings us structural balance by the end of fiscal 2017 while making critical investments in K-12 education, child safety and public safety- all without raising taxes," Ducey said in a statement.
The extra spending this fiscal year would include $4.1 million for state universities, $47.8 million to shore up the state's beleaguered Department of Child Safety, $22.6 million toward behavioral health and the State Hospital, $5.2 million for the prison health care system and $15 million for the School Facilities Board.
That would bring spending for the year ending in June to $9.3 billion, about 2 percent higher than the current budget.
Next fiscal year's budget would be $9.48 billion, an increase of 1.9 percent from where this year's spending would end.
The budget included no reference to tax cuts, although the governor said in his state of the state speech Monday he wants to cut taxes every year he is in office. He said Friday that he will work with the Legislature on tax cuts distinct from the budget.
Where increased spending would be under Ducey's proposal next fiscal year:
$106 million more for K-12 education, adding about $95 per student to schools spending, That would be in addition to $3.5 billion in education funding that would flow to schools from the State Land Trust Fund over 10 years if voters pass Proposition 123.
Another $14 million for public universities including the University of Arizona.
$31.5 million for a border drug strike force. The Department of Public Safety would oversee the force of about 40 DPS officers and sheriff's deputies from borderland counties.
$1.8 million for expanded jail facilities for drug addiction treatment in Maricopa County, to replicate Pima County's Family Drug Court.
Legislators are expected to start work on the budget right away.