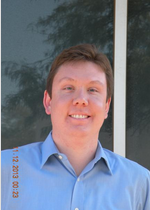 Matt Kopec, Democratic state representative. (PHOTO: City of Tucson)
Matt Kopec, an aide to Tucson City Councilwoman Karin Uhlich, was appointed to a vacancy in the Arizona House of Representatives Tuesday.
Kopec, a Democrat, replaces fellow Democrat Victoria Steele, who resigned the District 9 seat on Tucson's north side to focus on her race for the party nomination in the 2nd Congressional District.
Kopec was named over Pamela Powers Hannley and Ted Prezelski, whose names also were submitted by the Democratic Party to be considered for the vacancy. Because Steele is a Democrat, state law requires her appointed replacement to be a Democrat.
Kopec, a Tucson native and University of Arizona graduate, has worked in local civic matters, including chairing the city Ward Redistricting Committee following the 2010 census.
He joined Uhlich's staff in December 2013.