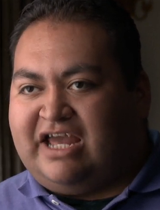 Daniel Hernandez. (PHOTO: AZPM)
Democrat Daniel Hernandez will run for a seat in the state House of Representatives from Tucson's District 2, he confirmed Thursday.
Hernandez is a board member in the Sunnyside Unified School District, a seat he said he will retain if elected to the Legislature.
District 2 encompasses Tucson's south side and stretches south to Sahuarita and Green Valley. It is now represented by Democrat Rosanna Gabaldón and Republican Chris Ackerly.
Hernandez was an intern in then Congresswoman Gabrielle Giffords' office in January 20112 when she was shot and wounded at a constituents' event. Hernandez assisted her and stayed with her on the ambulance ride to the hospital.
He is a Sunnyside High School and University of Arizona graduate.