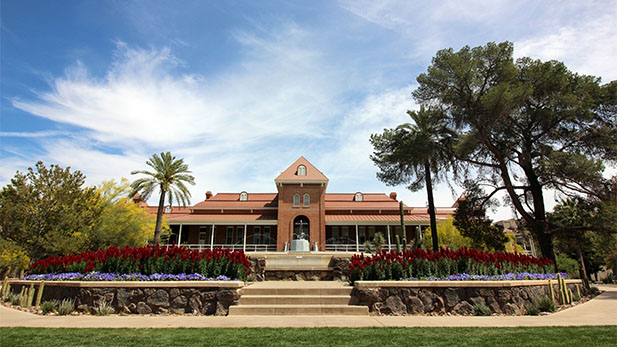 Old Main on the University of Arizona campus.

Julianne Stanford
Listen:
State lawmakers have proposed a bill that would allow firearms on college and university campuses.
House Bill 2072 would allow students and faculty members with conceal carry permits to bring their firearms on campus with them. Gun owners would have to register their firearm and permit with university administrators.
Former Gov. Jan Brewer vetoed a similar bill in 2011 that would have allowed guns on campuses except in classrooms.

Sponsor Sonny Borrelli, R-Lake Havasu City, told the Arizona Republic the bill is necessary because an individual should be able to defend himself.
Repeated requests from comment from legislators sponsoring the bill were not returned to AZPM.
Not everyone agrees with his reasons. Guns don't belong on campus said University of Arizona senior Celina Robles.
"I just don't think that a place of learning is an appropriate place to have guns. There's just no need, and it could be potentially dangerous," Robles said. "We've had students snap in the past before, I believe it was the nursing college many years before."
In 2002, a UA nursing student shot and killed three professors before taking his own life. More recently, a Northern Arizona University student shot three students and killed another in October.
"It really doesn't have any common sense to allow a gun on a college campus in situation where there is drinking, high emotions, and it's supposed to be a free exchange of ideas without someone feeling like they are cowed by threats of any sort," Sen. Steve Farley, D-Tucson, said.
The legislation specifies individuals must have a permit to carry a firearm concealed on campus, but it's not a sufficient safety measure Farley said.
"Several years ago in the legislature the majority decided to remove any training requirements for having a concealed carry a weapon," he said. "In Arizona, virtually anyone who is over the age of 18 can sign up, pay the fee and get a concealed carry permit."
The previous permit requirements made gun owners more competent on handling their weapons, said Michael Polakowski, a law enforcement expert and professor at the University of Arizona.
"The old rules were that you were required to go through a background check, and then complete a safety course. At least in that, we knew that people had minimal amount of training," he said.
To add more guns into the mix of an active shooter situation won't make anyone safer Polakowksi said.
"Well if law enforcement shows up, how do they know who the shooter is and who is the responsible citizen that's conceal carrying," he said. "The first inclination of the arriving officers is to shoot whoever has a gun because how do you determine in a split second whose good and whose bad, because if I'm the bad guy standing there, I'm gonna raise my hand and say 'hey I'm the good guy, I'm the good guy!' so I can distract them that way and get a shot in."
UA junior Daniel Blanchard does not believe allowing firearms on campus will improve overall safety.
"Would I feel safer if other people had guns? I don't know, I guess, potentially I might," Blanchard said. "I personally wouldn't carry a gun, but I guess if someone had the training and expertise and they owned a gun I might feel safer if they were able to step up in that sort of situation."
That doesn't mean a law regulating firearms on campus would prevent someone from bringing a gun on campus if they really wanted to, he said.
"I don't think it's a particularly good idea to have guns on campus, but I think people will bring guns on campus anyways. Say if someone is gonna attack on campus I think they'd bypass the law anyway," he said.
Police officials from the University of Arizona, Northern Arizona University and Arizona State University declined to comment on the pending legislation.
If the bill passes, there is another step before it becomes law. Arizona is among 23 states that allow universities and colleges to decide individually if they will allow guns on campus.
The Arizona Board of Regents has unanimously voted to oppose the proposed legislation should it pass.
The bill is awaits a third reading in the House. If passed, it will move to the Senate.
Julianne Stanford is an AZPM intern and University of Arizona journalism student.