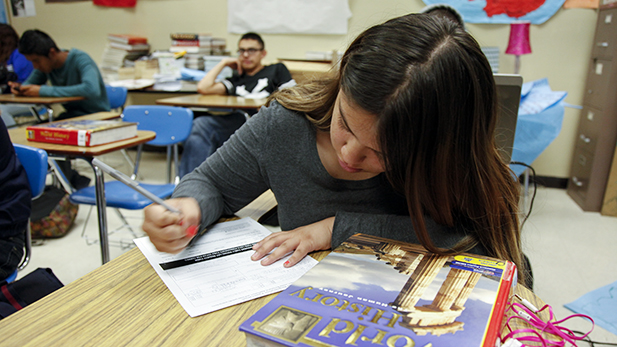 Yera Muñoz, who registered to vote Thursday, said she hopes to convince her boyfriend to vote before the election. "You should make voting important especially because of what is going on with presidential elections. If you don't vote, Donald Trump will be your future and that's really scary."
Listen:
Chula Robertson has spent almost a week embedded at Tucson's Sunnyside High School.
At lunch she scanned the crowds of students sitting at picnic tables and listening to Ty Dolla Sign's hip hop song Blasé on loudspeakers.
"At this point I recognize them. I'm like, I know you, I know you're not 18 yet," Robertson said.
The 18-year-olds are the students she is most interested in, because they are the ones she can help register to vote. Robertson is a community organizer with Mi Familia Vota, a nonprofit, nonpartisan group working to register Arizona teenagers before the presidential election.
"Your vote counts," Robertson told students. "Your vote is so important and it's really important you make that educated decision."
The group reported it has registered more than 200 high school students at Sunnyside schools in the last two weeks.
Citizens who are 18 years old by Nov. 8 can vote in the presidential election.
This was news to Ulises Galindo, a student in a Mexican American Studies class in which Robertson made her pitch.
"I've been wanting to vote, but I wasn't informed that I could, but now I am so looking forward to it," Galindo said.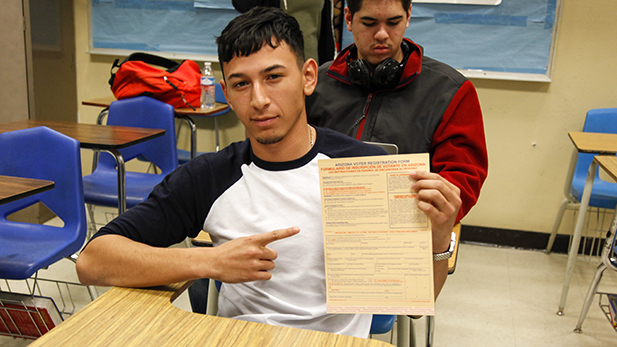 Ulises Galindo, 18, says he has questions to answer before Election Day. "Who are the top candidates that are going to be against each other so I know who to vote for and look them up and get more informed. And see which one would be best for me."
Yera Muñoz also registered to vote Thursday. Her 18th birthday was March 1.
"I'm really excited about voting because then I show that I have a word and that's one more person that votes," she said.
Mexican American Studies teacher Raymond Siqueiros Jr. said he has seen his students become more aware in his 21 years in the classroom.
"A large chunk of young people today are ready to get involved," Siqueiros said. "They might not know how exactly, but they're ready."