A decade ago, Pima County tallied more than 2,000 people sleeping on the streets. Today, there are about 400.
Metro Week Friday looks at what changes have led to the decrease of homeless people in the area.
"It was a real eye opener for us when the recession hit," said Steven Nelson, the program coordinator at a county-run employment center. "We saw so many families for the first time had run out of support systems and they too were facing living in their cars, living in the shelters."
Nelson said, in line with a national policy shift, the county moved from managing its homeless population to trying to end homelessness. An example of that is a housing first approach, which emphasizes finding shelter before addressing other issues.
"People solve their problems better when they're in their own house," Nelson said.
Another focus is employment. The Sullivan Jackson Employment Center teaches homeless clients how to search for a job, shelters them and aids in the transition to independent living.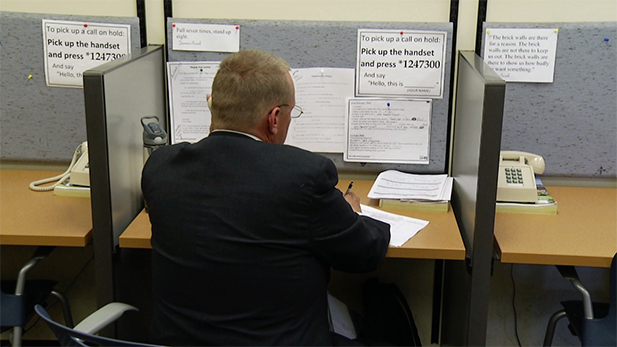 "Jobs are a dime a dozen, to an extent," Pat Atzman said. "But if I want to find something that is rewarding to myself, I've got to put a little effort into it, you know, and make sure it's right for me."
On a recent day at the center, Pat Atzman dials potential employers from the Center's phone bank.
"I'm not really looking for a job, per se, I'm looking for a career," Atzman said. As part of the program he created a list of three desired positions– data entry clerk, customer sales representative and cook.
Atzman said he has been homeless for about six months and he is ready to find a career that is rewarding.
"That little light at the back of the tunnel that everyone says they see? Well it's not that faint any more– it's very bright."
On the program:
Pam Mosely collects and manages data about Pima County's homeless people. She talks about how the annual count helps address needs in that community.
Steven Nelson runs the Sullivan Jackson Employment Center, which helps homeless people find jobs. He has worked with the population for 25 years.
Pat Atzman, a client at the Sullivan Jackson Employment Center, talks about his job search.
The journalists roundtable featuring Dylan Smith of the TucsonSentinel.com and Nancy Montoya of Arizona Public Media.