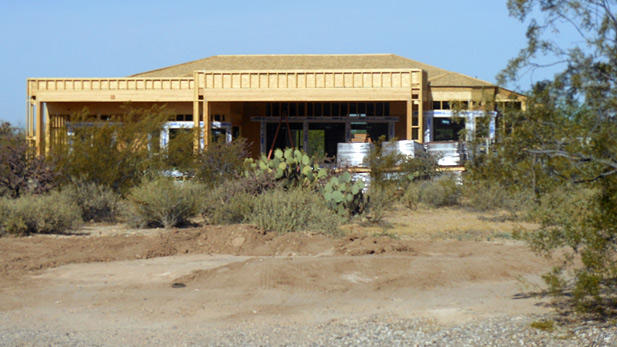 A new home is built on Tucson's northwest side.

Colleen Greer, AZPM
Listen:
Pima County added 5,781 residents in fiscal year 2015, according to the U.S. Census Bureau, a growth rate of about .57 percent annually.
Much of that growth was focused in Tucson's northwest suburbs. Marana and Oro Valley added more than 1,500 residents each last year, with growth rates exceeding 3.5 percent.
A big reason for the growth may be available space.
"What's very attractive is lifestyle kinds of things as well as the price of housing," said University of Arizona Geography and Planning professor David Plane. "Really, what Arizona has going for us is we have a very big homebuilding industry, lots of land and affordable housing."
Plane said the two towns are attracting both retirement age baby boomers and millennials who are looking to settle into family life.
Marana and Oro Valley ranked fourth and fifth in fastest growing Arizona communities in 2015. Plane said the list of the five fastest growing communities in Arizona had been dominated by towns in the Phoenix area in recent years.
While the Tucson area continues to grow, many of Southern Arizona's rural communities are losing population. All nine of the Cochise and Santa Cruz county cities mentioned in the Census estimate dropped in population.
Click on the community to see how its population has changed since 2010.
MORE:
Arizona
,
Cochise County
,
Pima County
,
Economy
,
News
,
Oro Valley
,
Real Estate
,
Sahuarita
,
Santa Cruz County
,
South Tucson
,
Tucson
,
U.S.