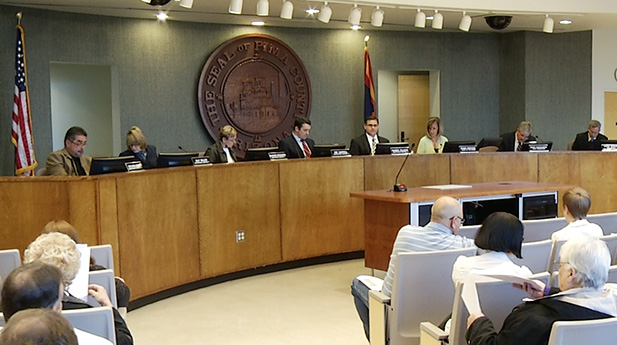 Pima County Board of Supervisors at a meeting in early April 2015.
Listen:
Pima County won a tax lawsuit against the state Tuesday, and the result may help avoid a county property tax increase next fiscal year.
State law prevents property taxes from exceeding 1 percent of a home's assessed value. But in Pima County, where jurisdictions overlap for school districts, counties and cities, the cap restricts school budgets.
Since 1980, the state has paid the difference for school budgets. Last year, the state stopped doing that, and passed the cost to the county, which raised its property tax rate to cover the increased cost.
In Tuesday's ruling, Maricopa Superior Court Judge Christopher Whitten called that pass-through unconstitutional.
The victory is bittersweet, said Pima County Supervisors Chairwoman Sharon Bronson.
"The state continues its shift of costs to counties for any variety of state services, which then makes it difficult to deliver the services that our constituents hope to see from their local governments," Bronson said.
She said the tax rate for next year's county budget will be based on this ruling.
"Assuming there aren't any appeals by the state attorney general, we will not have to see a property tax increase," Bronson said.
But that assumption is a tricky one. If the state does appeal, the county could remain liable for collecting the tax during the appeals process.
The timing leaves next year's county budget in flux, and likewise, the state budget, because one or the other will be responsible for collecting the tax to help fund schools.
The supervisors will have to make a decision based on what they know when they vote on the budget in early July, Bronson said.