Heather McNeeley was addicted to heroin. That led to her conviction on a drug charge and time in prison. As she faced her second drug conviction, she begged her defense attorney to help her go to rehab instead of a correctional facility.
Because she was ready to stop her addiction cycle, she took on rehab wholeheartedly, she said, learning about issues in her past that helped fuel her addiction.
"I was able to kind of learn how to live again as an adult," McNeeley said. "I used all through my teenage years, so I had never been able to actually learn how to cope and deal with things and be responsible for myself or for anything at any point in my adult life."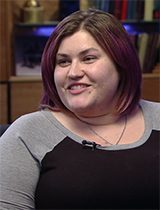 Heather McNeeley
Now, she is a recovery coach at The Haven Outpatient Clinic. It's the same organization that helped her get and stay off of drugs as part of the Pima County Drug Treatment Alternative to Prison program.
Her story is an example of the county's effort to offer people a different path when they are facing incarceration.
The county received a $1.5 million grant this year from the MacArthur Foundation to reduce its jail population. It can house almost 2,400 jail inmates a day, and is near capacity, at a cost to county taxpayers of $66 million a year.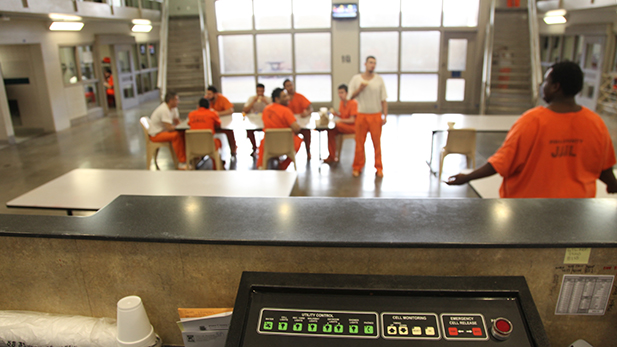 Andrea Kelly, AZPM
The majority of the inmates are there because they've failed the appear at a court date on a misdemeanor charge, said India Davis, the corrections chief for Pima County.
"We believe that's happening because people either do not have transportation to get to court, or the hours are not conducive with their working, or they have multiple issues that are spanning the courts, or they just simply forget their court date," Davis said.
The county plans to try multiple ways to minimize charges of failure to appear, said Ellen Wheeler, assistant county administrator.
The strategies are "designed to get people to court to begin with, and they're also designed to help people who already have warrants to get those warrants resolved," Wheeler said.
Tucson city court will implement automated reminders via phone or email. Pima County Justice Court reduced the rate of failure to appear by more than 20 percent with a similar system, so the county knows it can work.
Officials are also planning weekend warrant resolution days, in which a person can show up and have their warrant quashed if they meet a judge's criteria. It helps them not miss a day of work to go to court, Wheeler said.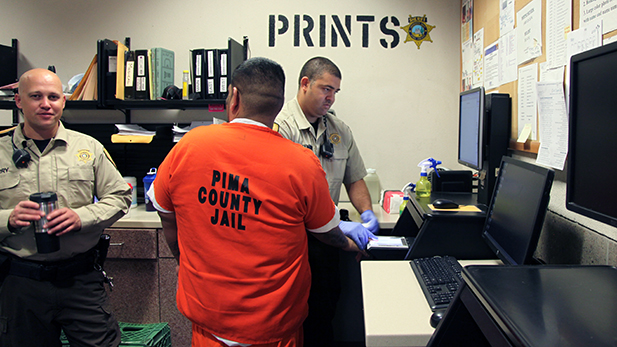 Andrea Kelly, AZPM
On Thursday at the Pima County Jail, many of the people appearing at the jail's video court room for arraignments had failed to appear for previous charges in court.
The judge attending to their case via video from his downtown courtroom asked each person whether they would promise to appear in court next time. Most of them said yes, and agreed to be released from jail on that condition.
One woman pleaded with the judge to let her out of jail before her court date. The judge sounded reluctant, because the woman had missed three previous court dates. She pleaded with him to let her out, saying she's been working with Hope Incorporated to get social services and, in her words "turn my life around."
Another woman simply said no, that she could not promise to appear, and she was booked into the jail until her next court date.
They are examples of another angle of the county's plan to reduce the jail population: providing more services to those who end up in jail. Like McNeeley, some people need help finding rehab, a job, mental health care, Wheeler said.
The grant plans to connect inmates with those kinds of services, again with the goal of ensuring people who go to jail once do not find themselves there a second or subsequent time.
Pima County competed for the grant and was one of 11 agencies in the country to receive it. The MacArthur Foundation funding is for two years, though the goals for reducing the jail population span three years.
The program will be a constant work in progress, Davis said. But if it's successful, the money saved in housing fewer inmates, at a cost of $85 a day, will be put back into sustaining the programs after the grant funding ends.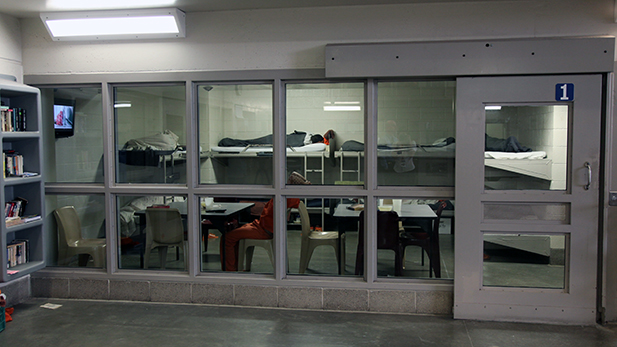 Andrea Kelly, AZPM