The Tucson City Council scheduled to consider raising bus fares at its meeting Wednesday.
The plan is to raise $1 million in revenue to offset the city budget subsidy of the Sun Tran transit system.
The manager and council members have come up with three proposals to raise fares, but when the council meets Tuesday, it could craft a plan that is some combination of the three, said Tucson Mayor Jonathan Rothschild.
As they stand, one proposal spares the one-way low-income fare from increases, while they all raise the one-way cash fare to varying degrees.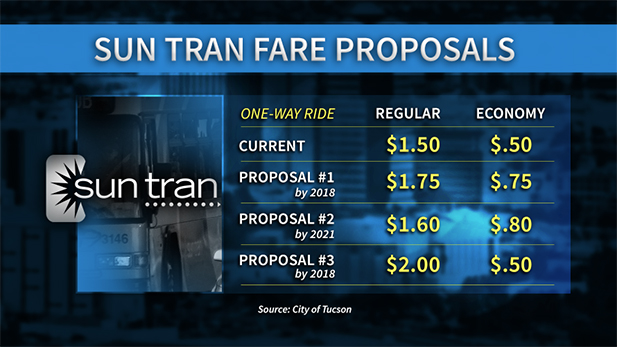 2016 Sun Tran fare increase proposals.
Fares haven't been affected during several challenging budget years when other city departments saw budget cuts, Rothschild said.
"And transit, we have not raised rates in years, and the fact of the matter is, costs continue to go up," he said.
Sun Tran riders say they depend on the bus, and it will be challenging to get around if they cannot afford increased fares.
"I understand that obviously they have operating costs that they have to cover," said bus rider Nathaniel Avalle. "Especially being on the low income pass, it's going to be a big impact on my budget."
The Tucson Bus Riders Union is lobbying the city to avoid bus fare increases. One angle to that argument is that low fares encourage people to ride the bus, which reduces congestion and greenhouse gases, said State Sen. Steve Farley (D-Tucson).
Also in this episode of Metro Week:
With Arizona's primary election behind us, and the November general election looming, Dylan Smith of the TucsonSentinel.com and AZPM's Christopher Conover break down the results and set up what to expect as the last few months of the election cycle remain.

Next week, the University of Arizona-led OSIRIS-REx Mission is expected to launch into space. The spacecraft will gather material from an asteroid and return it to Earth in 2023. AZPM's Sara Hammond explains what to expect, including how much material the spacecraft is supposed to gather, at a minimum.

U.S. Supreme Court Associate Justice Elena Kagan was in Tucson this week. She spoke to a full-house audience about the question of adding diversity to the court, and whether justices are influenced by politics.