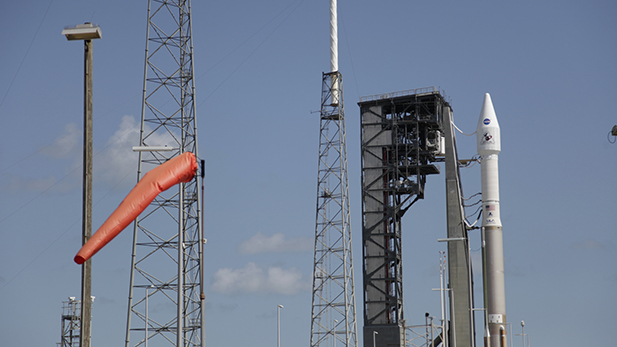 The OSIRIS-REx Atlas V rocket at the launch pad, one day before the scheduled launch on Sept. 8.

Arlene Islas, AZPM
Cape Canaveral, Fla. - The University of Arizona's mission to an asteroid is just hours away from its scheduled launch.
The stage, a launch pad, is set with a 191-foot rocket standing tall, loaded with the OSIRIS-REx spacecraft ready to aim for an asteroid. The rocket was rolled to center stage Wednesday morning, covering a quarter of a mile in 40 minutes.
The scientists and engineers who planned the quest to get a rocky sample from the half-mile-wide asteroid expect success. Mission leaders addressed several gatherings of guests at NASA's Kennedy Space Center throughout the day Wednesday.
"It's not a small thing to work so hard on something and then have it all come down to a single launch, a single day, a few minutes. That's what it comes down to, in this as in life, so many times," said the UA's Bashar Rizk, who is the lead scientist for the camera system on board.
Yards from the Atlantic Ocean, UA camera engineer Lori Harrison watched the rocket move into the sunlight from the building where it was assembled.
"Now we're going to the launch pad … to say goodbye tomorrow."
After the spacecraft departs on its seven-year journey, scientists will continue to plan for the return of a sample of materials holding clues to the source of life on Earth.
The launch is scheduled for today, 4:05 p.m. Tucson time.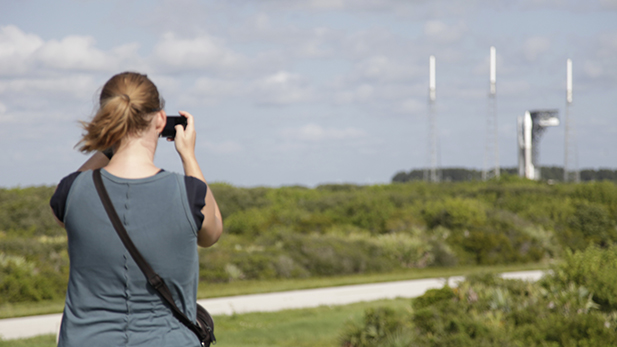 Lori Harrison, OCAMS systems engineer for OSIRIS-REx, photographs the Atlas V rocket on Cape Canaveral the day before the scheduled launch.

Arlene Islas, AZPM