Sirena Dufault hikes in one of the Arizona Trail's many environments.

Sirena Dufault
Arizona is one of the few states that has a national scenic trail, and Tucson resident Sirena Dufault discovered it by serendipity.
After getting hit by a car in the 1990s, Dufault developed fibromyalgia, a chronic pain condition that also caused her depression and fatigue.
In an effort to improve her life, she started to walk with her dog Zeus.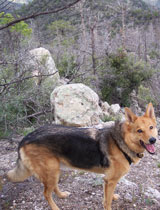 Zeus, a German Shepherd-Husky mix, joined Dufault on many hikes.

Sirena Dufault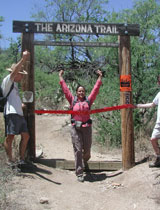 In 2009, Sirena Dufault completed the Arizona Trail the first time by doing it in segments.

Sirena Dufault
Little by little, Dufault began an emotional and physical transformation with her faithful canine companion by her side.
"Over the years I got stronger and I noticed the more I was outside the better I felt," she said.
In 2007, ten years after the accident, Dufault was looking for something to do in the community of Oracle north of Tucson when someone suggested she try a segment of the Arizona National Scenic Trail.
She did, hiking all day and making a discovery that would change her life.

She decided to volunteer for the Arizona Trail Association, which oversees the trail as part of a multi-agency cooperative effort.
Eventually she was hired by the group.
"The executive director approached me and said you do such a good job of promoting the trail and telling people about it, we're looking for somebody to work with our gateway communities. A gateway community liaison that would work with the towns on the trail to promote the trail to the towns and then the towns to the trail users and I said sign me up," she said.
Since then, she has traveled the state and other parts of the country to share information and awareness about the trail.
It spans more than 800 miles from the border with Mexico to the Utah state line and traverses habitats such a deserts and grasslands, pine forests and the Grand Canyon.
It is open to bicyclists, equestrians and pedestrians, and Dufault has hiked it twice.

The first time was in segments in 2008 and 2009, prior to being employed by the association.

She did it again in 2014 as a through-hike, a one-way, ten-week intensive adventure to raise awareness about the trail.
Dufault said users don't have to do the trail at once- they can explore different segments throughout the state.
The trail association's website has maps, tips and other information for those who want to try it out or volunteer.
"Before I did the trail my body was not something that I could count on. It was something that gave me a lot of pain, a lot of problems and through hiking I was able to get a lot better from fibromyalgia to the point that I was able to hike across the whole state," Dufault said.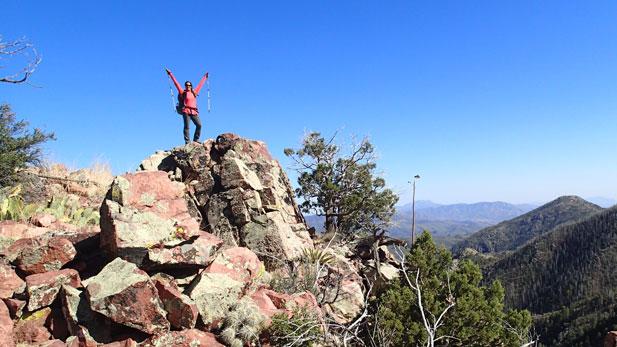 Sirena Rana celebrates during a hike in the Mazatzal Wilderness.

Sirena Dufault