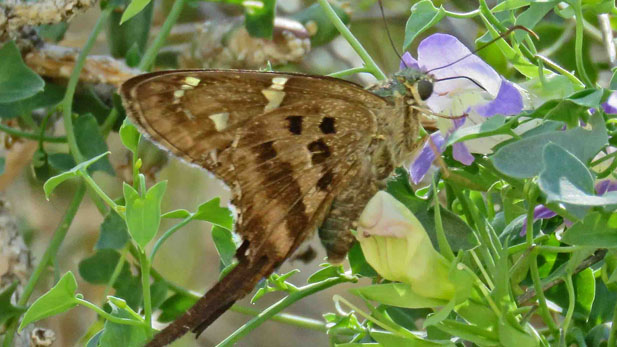 Larry Fellows, president of the Southeastern Arizona Butterfly Association
"Let's see if we can see a photo of a Giant Swallowtail. We have 3,000 of them -- there they are! We have 28 from Arizona. Yeah, we need more Giant Swallowtails. More pictures, people!"

Katy Prudic, a bug researcher at the University of Arizona, is looking at a website called eButterfly, which has helped bring science to people and people to science.
Scientific study, it turns out, is not just for scientists any more. eButterfly is one of several Internet-based "citizen science" projects that enable regular people to become the "eyes and ears" of academic researchers.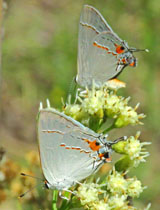 (PHOTO: Larry Fellows, president of the Southeastern Arizona Butterfly Association)
People often have a difficult relationship with insects. They run from roaches … skitter away from scorpions … and give bees a wide berth. But when it comes to butterflies – some people just can't get enough.
"I tend to think of butterflies as the 'birds' of the entomological world," Prudic said. "The colors that make butterfly wings are like tiny, tiny feathers. So that's another way to think about them."
eButterfly was started in 2011 by two Canadian researchers at the University of Ottawa. Prudic helped expand the site to cover the United States – and from her office on the University of Arizona campus, she is also working to expand eButterfly south of our border.
"eButterfly is an international, Web-based citizen science program that covers from Mexico all the way up to Canada," she said. "My role is to help recruit people – both natives who live in the area, and then people coming in for recreational purposes."
Prudic says there are about 800 species of butterflies in the United States. Arizona is home to about 400.
"The butterflies of Arizona are known throughout the world as being some of the most beautiful," she noted. "Arizona has incredible biodiversity – not just birds and butterflies, but plants, fungus, fish. There's so many different kinds of places that animals and plants can live."
When butterfly expert Elizabeth Long lived in Prescott, she travelled frequently to Southern Arizona in search of butterflies. She still vets photos and information submitted to the site by enthusiasts.
"One of the great things about eButterfly is you can really do it anywhere," Long said. "You can submit your observations anywhere – and know that it has value."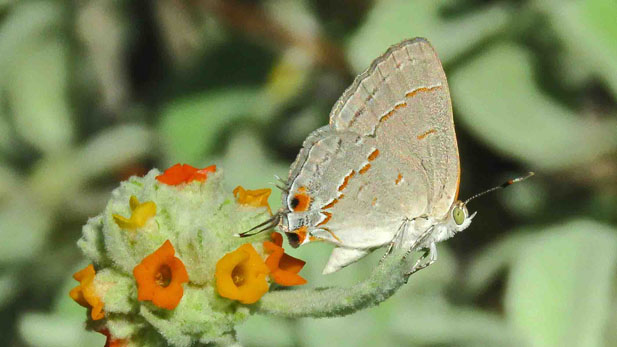 Another eButterfly contributor is Margarit McIntosh, who was introduced to the system via iNaturalist.org, another nature-themed crowd-source information site. She makes note of critters encountered in her neighborhood during her morning walk to work at the University of Arizona College of Medicine.
"Nature is not something that is out there in a national park that you go to see," she emphasized. "It's on campus. It's in your house. It's everywhere you look. And when you see the beautiful creatures all around you, you see how we're all in this together."
To date, several thousand eButterfly users have entered about 200,000 individual observations or photos – and those numbers are expected to grow dramatically as the site expands.
Prudic said contributors range from novice hobbyists to world-class scholars. And that's the point.
"Citizen science is, honestly, not new – certainly in the butterfly and moth community," she noted. "We've always had this connection with what we call amateurs versus professionals. We're engaging the community to help aggregate that data, so that we all can look at it and engage in it."
Even though Arizona is prime butterfly-watching territory, several species have disappeared. The Blue Silverspot Butterfly – once found throughout the Southwest, as well as in Central and South America – hasn't been seen in Southeastern Arizona for years. Also gone from Arizona is the Tawny Crescent, which is becoming rare over much of North America.
That is important, Prudic said. Butterflies (or a sudden absence of them) also reflect the health of an area.
"Butterflies are a canary in the coal mine, to give us information on how climate change and land-use change is impacting biodiversity – how an ecosystem works," she said. "And hopefully, they will give us a 'heads up' of what we can expect in the near future, and the farther future, 50 years from now."
Prudic will be at the Arizona Insect Festival on Sept. 18, along with experts from the Tucson Botanical Gardens, Arizona-Sonora Desert Museum – and researchers like Garrett Hughes, a doctoral candidate from the University of Arizona entomology department. He focuses on scorpion research, and said public outreach is key.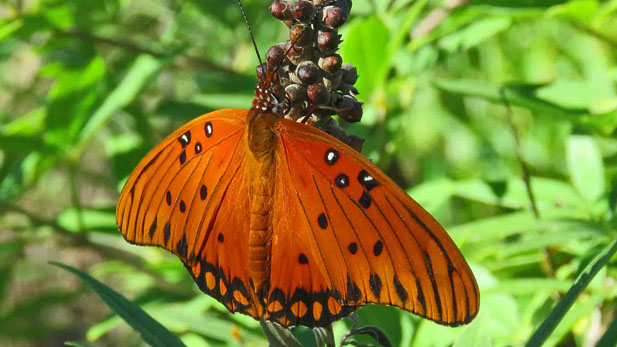 Larry Fellows, president of the Southeastern Arizona Butterfly Association
"The Insect Festival is a really great opportunity for people to interact with scientists as people," he said, smiling. "For example, I'm involved in species descriptions – taxonomy – and I can't collect everything there is to collect. But a citizen who is out there collecting and enthusiastic about insects can collect specimens that I would never see, that I can use for my science."
This is the sixth Arizona Insect Festival to be held on the University of Arizona campus. Based on past attendance, organizers expect about 6,000 people to come down and "bee" with the bugs.
The Arizona Insect Festival is at The U of A Student Union on Sunday, September 18th from 11 am to 4 pm.
Story by Bryn Bailer