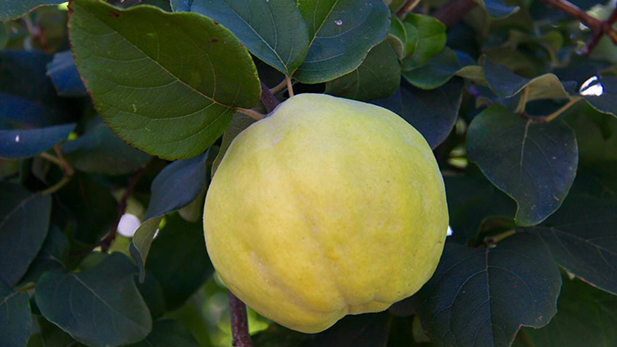 Courtesy of Friends of Tucson's Birthplace
Some Tucson transplants have come a long way to get here, but few have traveled so far as the quince, or membrillo in Spanish.
The nonprofit Friends of Tucson's Birthplace and Mission Garden are celebrating that journey, and the fruit's unique heritage here, with the 4th annual Membrillo Fest Saturday 2-5 p.m.
The tree is one of a group of Old World natives that made their way to places like the Sonoran Desert following the European expansion to the Americas.
"The quince trees originated in the Middle East and then found their way across Africa into Spain, and that's how they got over from Spain into the New World by the explorers and missionaries," said Roger Pfeuffer, co-chair of Friends of Tucson's Birthplace.
That long and difficult journey is something that imbues trees like the membrillo with significance in the region, Pfeuffer said.
"The whole history behind how these things got into the upper Sonoran Desert and the Tucson area is fascinating to me," he said. "These things had to survive a trip across the ocean, landing somewhere in Mexico … and then having to travel over land - planted in the missions, and then perhaps cuttings taken from those trees."
Getting here is one thing. Surviving, and even thriving, is another.
"When these trees came over here, there was some adaptation that was necessary, but these are basically desert-adapted trees. And they've become adapted to the Sonoran desert and its micronutrients. So they do very well."
The festival will feature a number of membrillo recipes, including empanadas, ice cream and the classic cajeta de membrillo, or quince paste.
Josefina Lizárraga, a Menlo Park resident who has been growing and caring for heritage trees all of her life, will be demonstrating how to make the traditional dish, which is generally served with cheese, Pfeuffer said.
Those attending the event will have a chance to learn more about the work done at Mission Garden, which Pfeuffer said often involves collaboration with the Iskashitaa Refugee Network. Many refugees living in Tucson will be familiar with harvesting and preparing fruit like membrillo from their home countries.
The event is co-sponsored by the Linking Edible Arizona Forests (LEAF) network, and those attending are invited to tour the garden and see some of the upgrades to the facilities taking place.
Friends of Tucson's Birthplace are expecting at least 300 people to show up to the event this year at Mission Garden, at 946 W. Mission Lane, at the base of "A" Mountain.
Visit the event page for more information.